I'm so excited about Superdraft, one of my recent investments made through our VC fund at Blue Field Capital. This innovative business is a project coordination platform that serves homeowners throughout the pre-construction phase. This is what the future of pre-construction looks like! It's a platform that bridges the gap between property owners and professional designers, architects, engineers and others, paving the way for better project management for both renovation design development and new construction design projects. Having secured some early success in other markets, Superdraft is in a position to change the way people plan, design, and actualize their dream spaces.
When we look back on the evolution of home renovation, this will be seen as a 'tipping point.' Flipping through the yellow pages to find a plumber or interior designer could be considered 'Home Improvement 1.0,' while finding someone through Thumb Tack, Houzz

or Task Rabbit could be considered '2.0.' Superdraft is definitely 3.0. Those earlier systems were simply introducing you to those vendors; they weren't helping you manage them. This platform does that!
Renovations are difficult, even if you are an experienced flipper. When you haven't bought many properties or engaged in any kind of significant renovation project, it can be completely overwhelming. This platform not only puts all the planning vendors & suppliers you might need at your fingertips, they also help shepherd the project through to pre-construction completion—helping everyone stay on time and on budget.
The Proof is in the Business Model
This is a team full of forward thinkers who have built a very strong company culture. They have enjoyed strong success in the Australian market, branded as "Superdraft," but they'll shift to market under the brand "Dreamspace" as they expand and tackle the massive $676 billion American construction market.
In Australia, Superdraft has coordinated more than 7,000 renovations and $1.31 billion in new home projects. Their platform has more than 1,000 professionals subscribed to their platform, generating a revenue of $20+ million and steady monthly traffic.
I invest in companies that are disrupting entire industries
, and I've learned that the ability to scale is one of the most important considerations. Superdraft is now one of the largest building management players in Australia. Their revenue has grown steadily and quickly, proving the viability of the platform to perform at scale, and cementing several reliable and predictable streams of revenue.
Platform Revenue Growth in 2020
With that trajectory, the team predicts that they could be the world's largest coordinator of residential construction and home improvement within three years, handling 170,000 projects totaling $8 billion by 2025. 
The key to their success is the point at which their client acquisition takes place—very early on. They attract homeowners when they are still in the dreamy ideation phase, and they become the tool that carries those consumers through to making tangible design plans, with the right professionals matched and the proper project management tools put in place.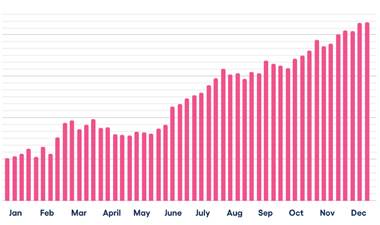 Global Market Potential—No End In Sight
In the United States alone, there are over 1.5 million large renovation projects and new housing starts. In addition, there are more than 20 million smaller projects in which the total budget exceeds $5000.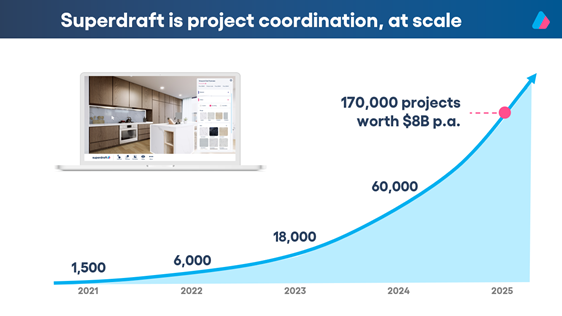 According to research from Freddie Mac, the market had a pre-pandemic shortage of almost 2.5 million homes.The latter half of 2020 saw a rapid acceleration in residential construction projects in order to meet the demand.
Entering 2021, experts (including the Mortgage Bankers Association) predict that new construction projects of single-family homes could reach more than 1 million annually for the next three years in a row, representing the fastest market pace we've seen since 2007.
[Left] SuperDraft's 5-year user growth projection
A Fragmented Construction Industry—The Big Market Need for A Bridge
While business has boomed, efficiency has at times lagged in the residential construction industry, and the sector is starving for effective digital tools that can facilitate design execution and streamline project coordination. Small- and large-scale construction projects are notoriously stressful, complicated, unwieldy—an overwhelming undertaking that can pervade other parts of the consumer's life.
Even a small home improvement project requires hiring, planning, and coordinating efforts between architects, engineers, general contractors, and a host of others—land surveyors, city officials, building inspectors, interior designers, and more. 90% of those are small business owners or solopreneurs. The result is a highly talented but highly disjointed team and a fragmented collaborative process. Poor project coordination can mean sunk costs, lost time, and unrecognized design potential—all of which can be avoided with the right system in place.
A Win-Win for Construction Professionals and Property Owners
The construction space is a symbiotic workflow. It's a no-brainer to invite consumers and home improvement professionals to share space on a platform that's designed to help them find each other and work together easier. Solving the normal barriers that stand in the way of initial engagement and project workflow, offering professionals and owners a solution to share in the process and create better spaces, on time and on budget, could move the industry forward in a big way.
For home improvement and construction professionals, every job is a balancing act of myriad skills and aptitudes. As one of the lesser pressing priorities, marketing often falls to the wayside, and skilled professionals might struggle to grow their business across a network of new clients. Launching a PRO paid subscription model does a lot of that marketing work for them, helping design professionals find new clients who are actively seeking updated and relevant design solutions.
Introducing New Offerings: The Superdraft Difference
Instant Quotes and Flexible Payment Options Can Generate Cash Flow
One of the most promising features of the platform is the ability to leverage the powers of AI for proper quote generation. AI technologies can generate quotes and match property owners with the right design professionals for their budgets. It provides each party with the necessary information to help them make decisions and take the appropriate next steps, accelerating the prospecting stage, increasing the chances of finding a match, and ultimately leading to greater profitability for the professionals and beautiful, completed designs for the homeowner.
A whopping 50% of all renovation projects exceed their time and budget allocations. That wastes billions of construction and consumer dollars every year. The Superdraft platform puts an end to that waste; proper coordination and enhanced communication from beginning to end is creating better satisfaction and minimizing the consistent pain points on both sides.
Profitable Site Stickiness
Other platforms on the market have honed in on one particular area of the home improvement process. But they miss the boat on capturing revenue across the full process. In contrast with competitors in the space, including Houzz and other solutions, Superdraft's platform design nurtures homeowners from planning all the way through. They match them to the professionals that are right for the project and remain highly involved all the way through to design completion.
Easy to use tools make the platform really attractive–a must-have in the design world. Integrated 3-D is an incredibly compelling tool that's changing the creative brainstorming phase. Homeowners can now see exactly how a given paint color, tile, or flooring option will render in their particular space. I think this is the secret behind Superdraft's sustained site traffic, which is totaling around 40,000 monthly visitors. By offering 3-D visualizations in addition to the project coordination and budgeting tools, this team has found the winning strategy for engaging property owners and helping everyone stay involved throughout the project.
This kind of sustained involvement across the full process makes it possible for Superdraft to capture multiple streams of revenue across design, financing, and product purchases. For me, investing in Superdraft has been a no-brainer. The platform is solving real needs and alleviating tangible pain points. Their market is huge, and its major drawback is the niche Superdraft is perfectly positioned to solve—the fragmentation of the design process.
SuperDraft is one of few viable competitors in this space, an early market leader well-positioned for serious sector disruption. The founders, Mark Deacon and Jake Robinson, have only made me more excited to be along for this ride.
Jake has 15 years of experience in tech, media, and professional services fields, and he's well acquainted with what it means to engage with professionals across creative spheres. Mark, who was named GC Young Entrepreneur of the Year, complements Jake's experience with a knowledge of the Australian market and an appetite to scale.
When I met the team, I knew the next phase of Superdraft's evolution was in good hands. One of the hallmarks of good startup energy is celebrating milestones—sales targets reached, new clients secured, number of website visitors or other target audience goals achieved.
This company reminds me of my early days at Vungle because they are reaching their goals regularly and celebrating often. During my due diligence, I spoke with the founders often and sometimes, there was so much celebratory noise in the background, it was hard to hear them!
[Right] SuperDraft founders Mark Deacon and Jake Robinson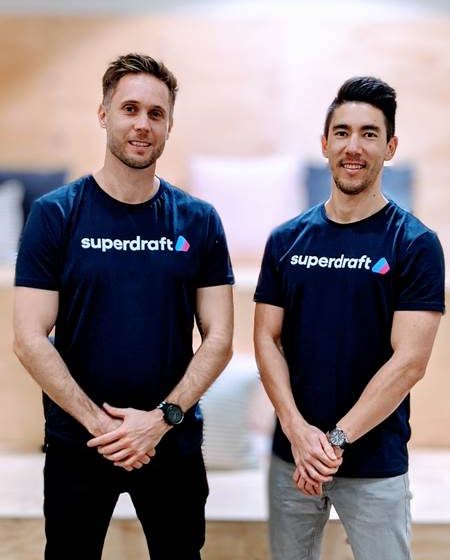 Jake, Mark, and the Superdraft team have built this platform in a way that captures both B2C and B2B revenue, proving the model with continual sales growth and sustained site traffic. They're now focused on continuing to find growth opportunities, to lower CAC and increase LTV. Superdraft continues to earn more and more traction in the Australian market with every passing day. 
I'm excited to see Dreamspace, its American iteration, take off in the US. In my opinion, it would come as no surprise to see this team dominate the market worldwide—and I'd put my bet on that happening sooner than people might think.