Investing in FinTech —I'm excited to announce my new investment in a FinTech app Stake, a unique loyalty cloud for renters. Their innovation, in my opinion, could birth a whole new category in the rental real estate market. The old maxim rings true: to keep a customer is easier (and cheaper) than finding a new one. Airlines, hotels, and credit card companies have mastered the art of loyalty incentives because the behavioral science supports the endeavor and the investment it requires. Loyalty is an important consumer motivator, and when it comes to rental decisions, loyalty can mean the difference between ongoing profitability and annual loss.
When you lose a tenant, it costs in more ways than one. The revenue potential of an empty property, the cost of repairs and improvements that need to be made between tenancies, and the expenses associated with touring and re-introducing the space. That's why loyalty expert, Rowland Hobbs, was inspired to bring his expertise to the real estate sector.
Hobbs launched Stake nationally in 2020, a mobile FinTech app that helps property owners improve their net operating income (NOI) and incentivize renters to save money, earn rewards, and stay in their current rental for longer. From what Hobbs and his team have seen so far, lease-ups are happening three times faster, retention rates have jumped 7-15% higher, and profits have stabilized with increased on-time payments—all in all, an impressive feat.
I first talked with CEO and Founder Hobbs during the Shadow Ventures Showcase Multi-Family Cohort. Over the course of his career, Hobbs has advised a wide variety of types of clients seeking success in loyalty programs, including: American Express, Kroger, Weight Watchers, Macy's, Taco Bell, and Nike, just to name a few, and he is now bringing all that industry experience to the rental real estate market.
Previously, Hobbs founded two prior start-ups—design firm Post + Beam and photo sharing service Linea. He's now focused on transforming the real estate sector with Stake's 'Return on Rent' loyalty program.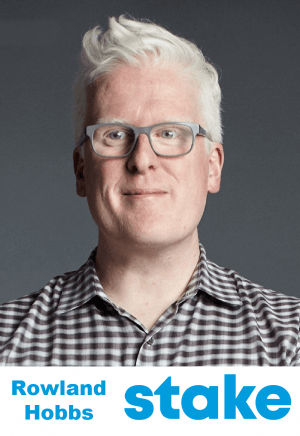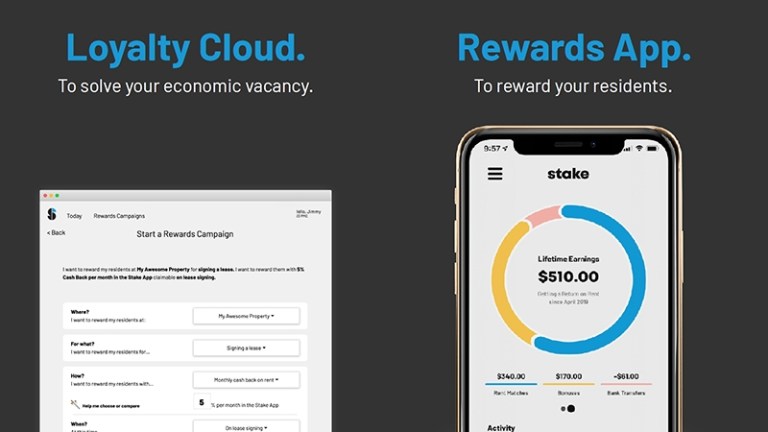 Stake is a consumer-facing FinTech app used by property owners and managers to offer highly personalized incentives to turn their tenants into long-term renters. When a renter is considering a property, it's typical to meet with a property manager, take a tour, negotiate pricing and eventually sign a lease.
When the rental market is soft, it's typical for consumers to be swayed by the promise of getting one month free; if you live in COVID-battered New York City, or San Francisco, you might be seeing up to three free months being handed out these days!
Pandemic-induced price cuts and cut-to-the-bone concessions can ruin any property owner's bottom line. In the last 12 months, real estate owners have felt their hearts sink every time a near-by property ups its offer from one free month, to two months free to three months free. Other owners feel like they have no choice but to follow suit.
Stake transforms incentives, concessions, gift cards, and 'one month free' offerings into a more powerful, more customized set of rewards. A recent study showed that free rent made up 90% of all rental concessions, but in the US, 54% of renters still leave at the end of the year. At best, it's an inefficient system. At worst, it's a profit-killing marketing practice that skyrockets the cost of customer acquisition, forcing property owners/managers to pay more than any other industry to source and secure new business.
Stake offers a better way to incentivize potential and existing renters. Stake's Cash Back Rewards program uses data, personalization, and renter engagement to deliver better results for property managers—all while putting money directly into the renters' wallets.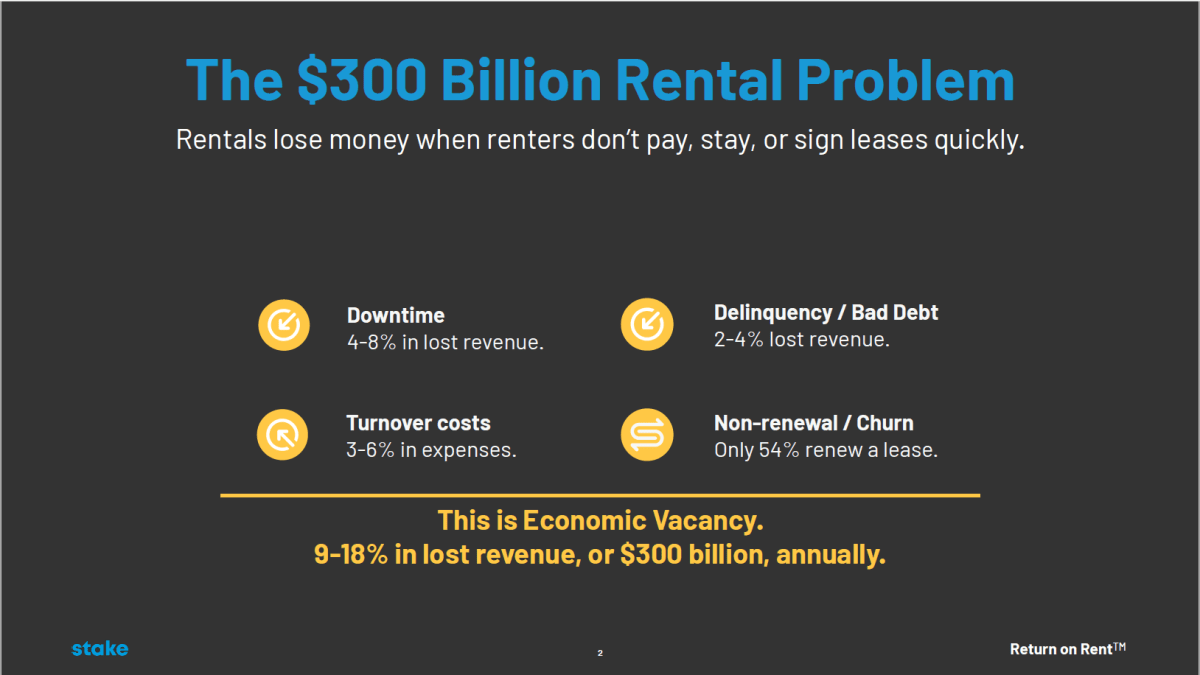 Better leasing funnel

When Stake is included in a listing, 4x more people click through. Stake also helps owners encourage prospective renters to take a tour. By offering small, instant gratification incentives for feedback and follow up, some landlords have seen a 3X increase in the tour volume of their properties. So every step in the leasing funnel is better when you make it rewarding with Stake.



Customized Cash Back offerings

Stake's AI technology determines exactly how much 'cash back' an owner should offer in order to decrease their overall costs. Because renters see the savings every month in their account, it helps property managers/owners improve relations with renters and help them build savings–sometimes for the first time in their lives! Switching to this model can cost up to 63% less than current marketing costs. Not only is this a method renters are familiar with, it's one I think they'll come to expect once they see it in the rental market. They're already familiar with the tried-and-true airlines, hotels and credit card reward programs—the question will soon be asked: why not the same for my rent?



Data-Rich Loyalty Cloud

A/B split copy testing can help refine incentives for greater effectiveness. An added benefit of capturing so much data on renters is the gradual acquisition of a more complete, quantitative understanding of tenants. Landlords can use this to foster more targeted communication and stronger relationships with their tenants.



Bonuses for On-time Payments and Renewals

Renters are incentivized to hold cash back money in the app. Outside of Stake, most renters have less than $400 in their bank and typically pay 25 to 50% of their take-home pay in rent. For 83% of Stake users, the money held in Stake represents their largest liquid savings account.



Welcome Gifts

Gifts can be personalized to match renters' interests, which also leads to further improving the landlord/tenant relationship. These customizable housewarming gifts can come from some of the leading online retailers, such as Chewy.com, TheSill.com, Upwork.com, DoorDash.com and others.



Early Bird Rewards Renewal Incentives

By nurturing on-going communications and offering special loyalty incentives, Stake's program uncovers earlier insights about potential non-renewals and information about how much a resident is willing to pay on a new lease. The program provides 7-15% better renewals and 30-75% better lease trade outs—a landlord's dream.
Property managers in metros areas who use Stake have experienced an 85% renewal rate—a feat that can't be overstated in the pandemic era.
Renters who have been negatively impacted by COVID-19 have actually been able to tap into their Stake savings to meet their rent, taking advantage of the cushion they'd built over the 12 months prior.
The results have been clear: renters are happier, wealthier, and more secure in their rental agreements.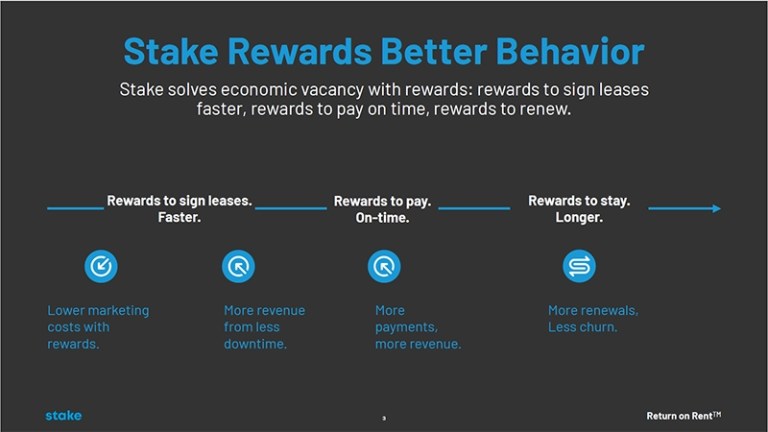 COVID-19 has created a unique dynamic in which rentals are overwhelmingly winning the rent-buy calculus that's currently taking place in the market. This bodes particularly well for the short-term future of Stake. For more details on the changing factors of the rent vs buy analysis, you can read my blog post
here
.
Taking a longer-term view, the total addressable market (TAM) is huge, with 48 million renters across the United States who are largely underserved by banking institutions. Renters of workforce housing, student housing, and single family homes will quickly recognize the value that Stake can bring.
The financial aspects of Stake create HUGE opportunities, as renters are typically not known as big savers. In the past, banks have traditionally had a hard time reaching and monetizing renters but because a Stake 'bank account' is so deeply integrated in to how renters pay, Stake has been able to unlock a new 'holy grail' of banking customers in the process of delivering rewards for loyalty.
Banks are eager to capture new customers and calculate the typical lifetime value (LTV) of a customer somewhere between $2000 and $4000. Stake's entry into the digital financial world goes even beyond that. In today's world of banking, it is only those who are able to engage with customers with viable digital services who are going to survive and thrive in the future. Our increasing reliance on mobile technology has dramatically impacted how we do everything—including how we handle our money. Just ask PayPal Holdings (PYPL), a company whose market cap has grown from $47B in 2015 to nearly $350B as of early February of 2021 (note: that makes it bigger than Walt Disney Co., Netflix Inc. and every U.S. bank except JPMorgan Chase & Co.!). As more and more transactions are done digitally, those who can facilitate more and more financial transactions will shape our digital financial future. This puts Stake in a great position to take advantage of such opportunities.
And there's one more important market shift on the horizon: Gen Z renters are fast approaching the market. We're already seeing longer rental time frames than the previous market-era, and we have no doubt that Gen Z renters will be among Stake's largest enthusiasts, recognizing its capacity to improve their savings, and maybe even making them feel a little more at home.