At a peak of USD 1,671/000bf, lumber prices were becoming top of mind for homebuilders and homebuyers both. Far above the long-term average, still-climbing lumber prices had to be among the main barriers to building and buying.
The spike was driven primarily from a few contributing factors. First, reduced mill production was a direct result of COVID-19 shutdowns, leading to a significant change in supply. Similarly, ongoing tariffs on Canadian lumber transport were reducing available supply. The ratio of supply and demand dropped by almost 50%, leaving a massive strain on the delivery supply chain and spiking prices across the board. When prices spike, people hoard. Smaller suppliers and regional builders found lumber almost impossible to secure in any large amounts.
All of these supply strains were taking place while the dramatic
rise of US housing
starts continued. One of the only demand streams unstrained by the market, lumber became a kind of bottle-neck effect to inflated market activity. At the end of April, the National Association of Homebuilders announced that rising lumber costs added roughly $36,000 to the cost of a median-size home in the US.
Luckily, all things that go up must come down, and lumber prices have been no exception. As of the middle of June, lumber futures had already declined 46.2%, down to USD 898/000bf and were continuing to fall. Still higher than the long-term average, such a significant decline represented real relief for prospective builders and buyers.
And maybe more importantly, the decline is expected to continue. Experts note the futures curve is set up for subsequent declines, and predict it will reach a price of USD 681/000 in July. That would be an additional 24.2% drop.
For some, good news can be taken at face value. Others might want to understand why. Contributing to the roll-over of lumber prices were a number of factors. The dramatic spike first led large national homebuilders to slow their sales pace and extend their cycle times. That quickly became the only way to balance their cost/price equation and to mitigate the inevitable supply chain disruption for the other parts of the house, like appliances, countertops, and windows.
And when builders hit the brakes, some pressure was released from the lumber supply chain. Cued by the return to more normalcy, panic-buyers and those who were buying a lot of lumber at significantly lower prices began to de-stock, and financial players followed suit, unwinding their futures positions.
While it wouldn't account for all of the price movement, home repairs and remodels account from anywhere between 35% and 40% of general lumber demand. Single family home construction, by comparison, accounts for about 35%. When homeowners were kept inside during COVID-19, with more time on their hands than they could recall in recent memory, home projects surged in popularity. But the soon sky-high lumber prices undermined their enthusiasm, leading to a breakdown of bigger ticket projects like a deck or a kitchen remodel. Again, the reduction in at-home projects was one part of a larger force that brought lumber futures finally downward. 
Experts are focusing mainly on the current housing supply as it exists in the market, and their predictions for demand trends moving forward, to understand the longer-term outlook of lumber prices. They're also noting that increased lumber production in US mills and additional worker return is likely to continue to increase availability.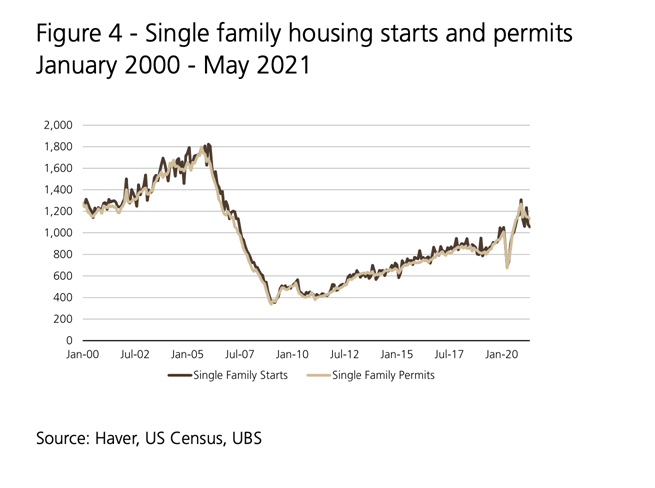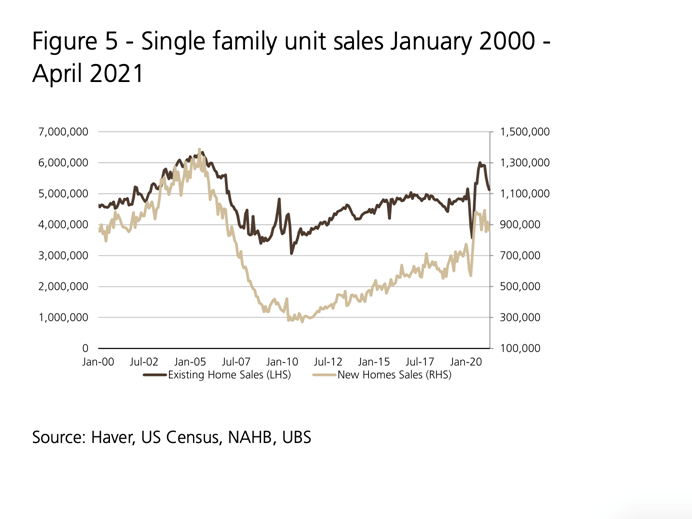 Regarding demand, all signs point to sustained strength in the housing market. There has been no wavering in single family starts and building permits, and single family unit sales continue to fly off the market. 
And even during a period of high demand, inventory has remained at or below 20-year market lows. 
In conclusion, experts believe there might be room for lumber prices to fall further, but the long-term outlook of the market will see lumber prices that are above the historical market average. Even the upticks in available supply will be quickly absorbed by the strength of the demand, especially as demographic trends support the homebuilding market, and as consumers continue to be motivated by lower-than-average mortgage rates.
The market is made up of all of these factors. Supply chain realities are closely linked with the home buying, home building equation. As in any kind of symbiosis, altering one factor alters the whole system. Lumber prices have recently been one such alteration that home buyers, builders, investors, and suppliers have had to contend with. A return to normalcy as far as lumber pricing seems to be on the way. But almost inevitably, there will be another factor that will end up impacting lumber prices as a driver of change in the home buying/building industry.