I serve on the board of this tech company that is quickly gaining traction with an impressive (and growing) list of Fortune 500 clients. 'A-list' companies are finding this cloud-based workplace analytics data so useful and so easy to implement that they are proceeding with global roll-outs across multiple offices worldwide. 
This proves Basking's scalability and provides a strong competitive advantage over other, clunkier alternatives. Such quick adoption is helping them become embedded in each company's infrastructure, which is a powerful place to be and reminds me of how my previous startup was able to build out a developer ecosystem that skyrocketed Vungle to strong success as well. 
In pre-pandemic 2019, almost 40% of office space was unoccupied on a given workday. Post-COVID, we can't imagine how high that number has risen. Real estate professionals can feel the crisis of this moment; every unused space adds up for a cumulative billions of dollars wasted.
Eldar Gizzatov co-founded Basking in 2017, before the complications of the pandemic skyrocketed the market urgency. Together with his highly talented tech team, Eldar is amassing a client list of Fortune 500 customers that are already saving millions with the Basking solution.
Those clients operate across multiple industries and many geographies, including Cisco, HP Aruba, Comfy Siemens, and Westcon Comstor. Prior to co-founding Basking, Eldar was an Entrepreneur-in-Residence at Allianz Digital Accelerator, where he founded FairFleet360.com—the drone services marketplace for real estate and insurance industries.
Colliers, a leading commercial real estate brokerage and investment management company, is both a partner and a client of Basking. This sends a strong message of confidence and caused some of my LPs in the office industry to invest more because they were so impressed with the offering.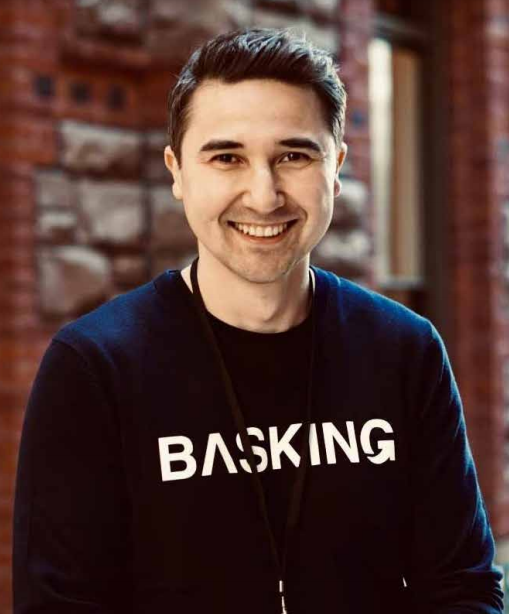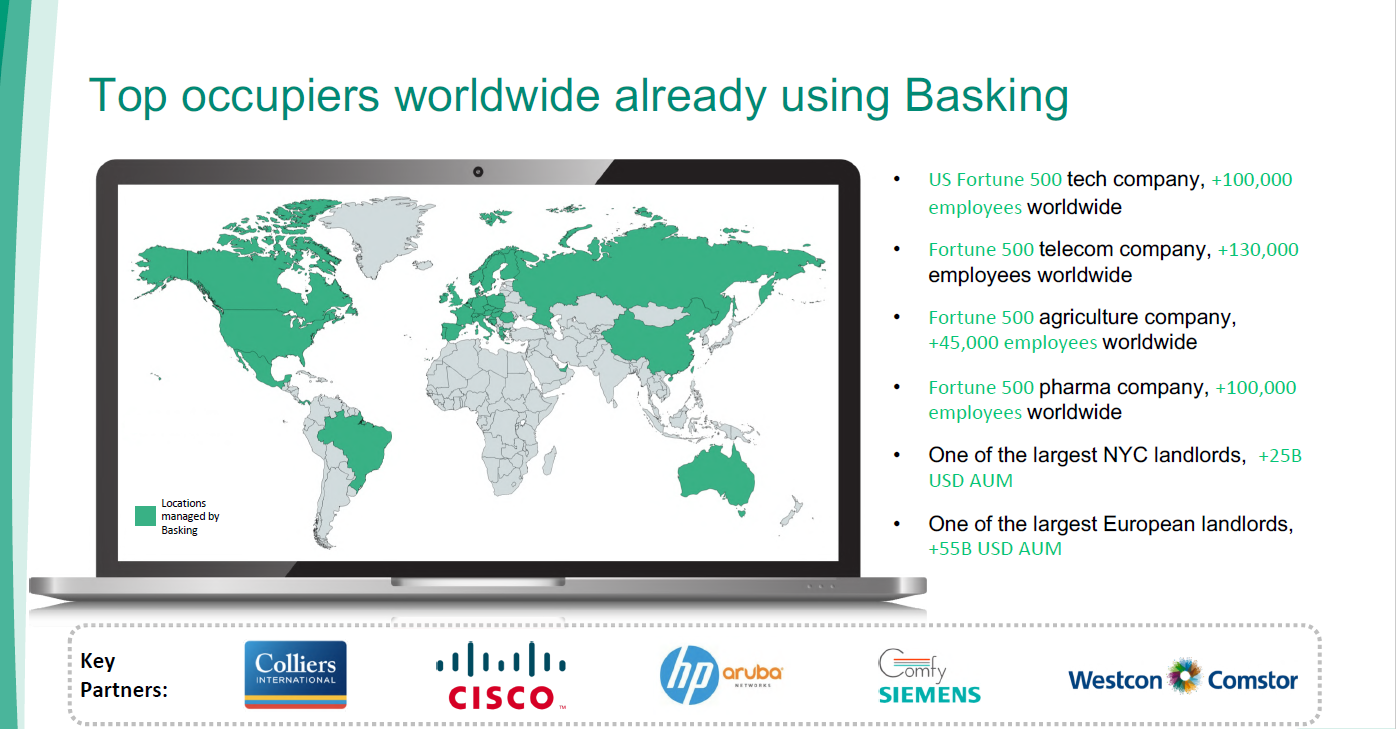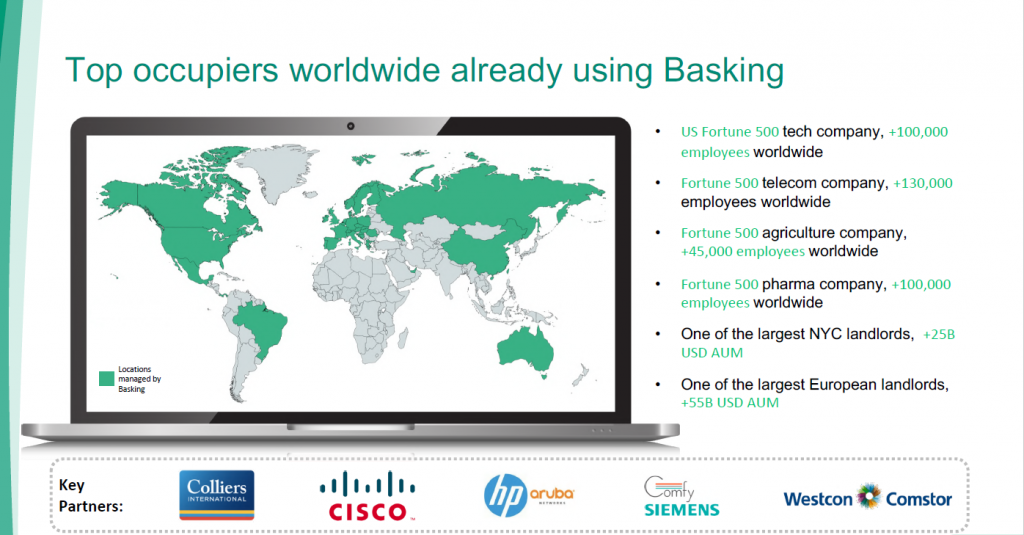 Collier used Basking's space utilization analysis to inform their recommendations regarding the additional of 150 employees without increasing rent in the costly London real estate market. With this strategy, they saw an incredible €1 million in savings. As a result of that success in the UK, Basking was deployed across 65 Colliers offices globally and has been assisting in occupancy monitoring and social distancing compliance throughout the pandemic. 
For another company, Basking's data provided nearly $8 million in additional revenue by optimizing expensive and underused locations. Similarly, Baskings partnered with another client who used their data to understand alternative use cases for an unused office space that resulted in $400,000 in rent cost avoidance while at the same time increasing employee productivity. Those are game-changing numbers in any market moment but especially so in the landscape of COVID-19. 
Both now and post-COVID, Basking can be a real estate professional's best friend. Their easy plug-in capabilities and web-based app platform allow them to go to market with industry-disruptive pricing.
They provide real-time office occupancy monitoring, tracks social distance compliance and reports on real estate opportunities and portfolio-wide insights for the following: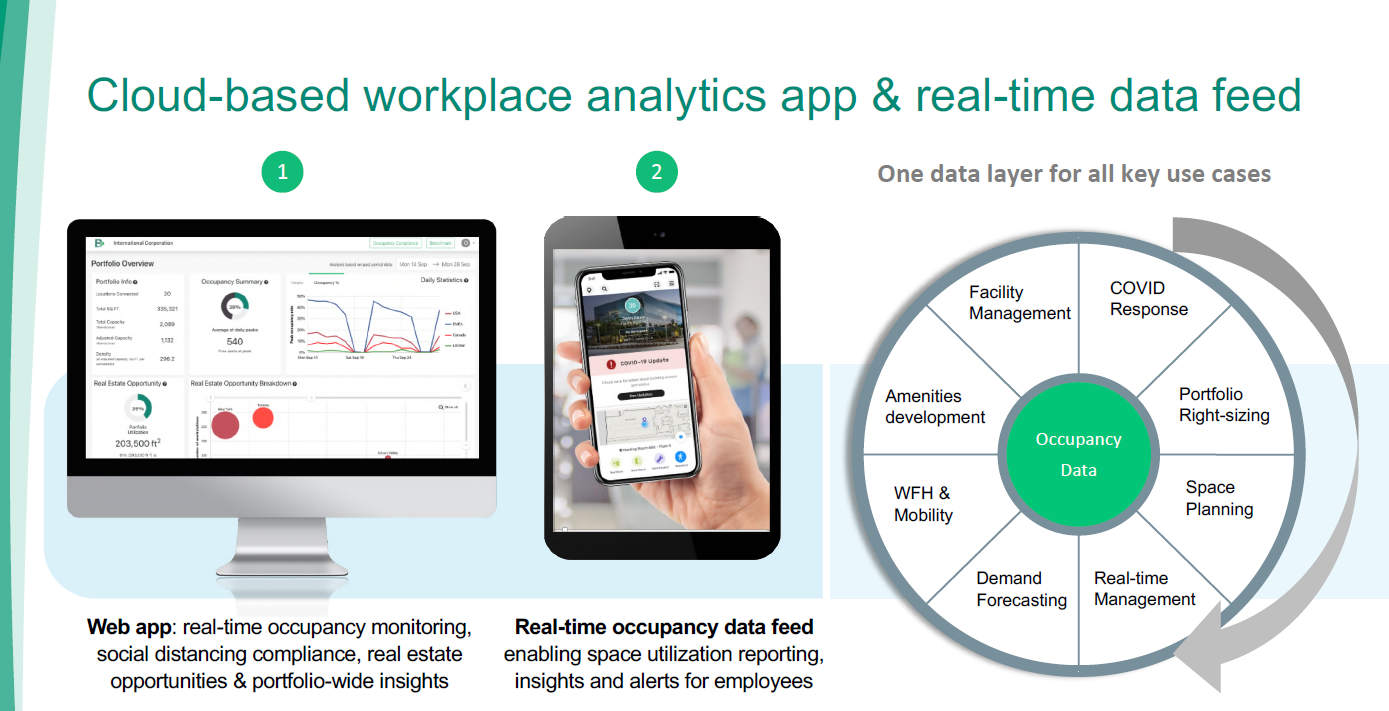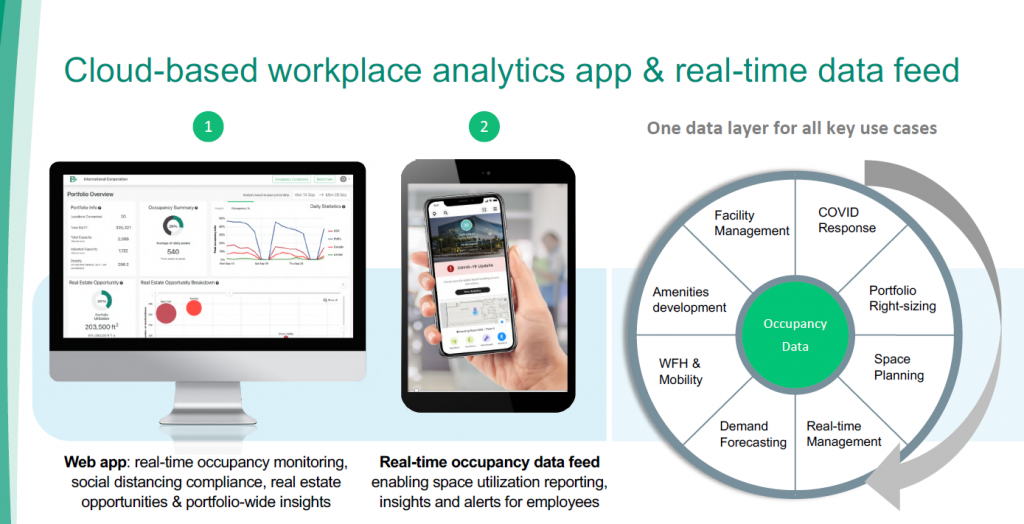 COVID response
Portfolio right-sizing
Space planning
Real-time management
Demand forecasting
WFH (work-from-home) and mobility
Amenities development
Facilities management
The benefits of having this information at hand can't be overstated. Beyond helping professionals visualize and understand space usage and density in real-time, these insights help companies easily monitor adherence to physical distancing requirements and engage with the effectiveness of their return-to-work protocols. This is the kind of visibility that will see early success as a COVID-era response and sustained use as a better way to understand our post-COVID workplace.  
With API integration, Basking connects simply and elegantly to a building's existing WiFi infrastructure. Depending on the vendor, it takes anywhere from a few minutes to a few hours to integrate and amalgamate the required data regarding connected devices.
With Basking's proprietary machine learning algorithms, that data is then converted into relevant and actionable metrics and insights for real estate professionals as well as corporate executives. Basking successfully leverages the resources that already exist in the real estate sphere to offer useful information in a cost-effective way, avoiding the sunk costs of hardware installation. 
Basking's Wi-Fi-based service approach is a market-first and a much-needed solution. This tech-heavy, asset-light solution is replacing old practices—hiring consultants to walk around offices to do floor by floor manual counting or installing costly, hardware-intensive sensors—because the economics are so much more attractive and the ease of use so clear. It helps clients deploy faster and more cost-effectively. This solution is far more scalable with better unit economics and pure software revenues.
Other competitors in this space, like Vergesense or Density, have raised a great deal of venture capital and have gotten a lot of attention but Basking's tech is fantastic because for those who want a simple solution, they can eliminate hardware-intensive data-gathering and for those who remain convinced of their uses, Basking can work alongside those hardware solutions. Basking is also like Vungle in that they can build out a developer ecosystem like I did with Vungle, and can become infrastructure.
Office real estate is at a constant premium, so space utilization is a critical component for anyone charged with managing and optimizing operating expenses for their companies. Basking's analytics packages is offered at 1/4 the price of market competitors, costing professionals a fraction of the time and resources that other solutions require.
Regardless of its pricing attractiveness, Basking understands that such simple optimization can't come at the risk of employer privacy concerns or IT security. Connection comes with responsibility, and Basking has made that one of its top priorities. Device-specific information is gathered through wireless Wi-Fi networks like Cisco, avoiding the dangers of relying on the customer's network.
This process ensures the data's security, since Basking is able to refrain from altering any internal settings or relying on the company's network. All it gathers is anonymized device location information, and the algorithms are able to give real estate professionals and corporate executives everything they need to know without compromising (or collecting) any personal information.
In addition, it randomizes device information at the network level. Basking provides GDPR- and CCPA-compliant occupant privacy protection while delivering immediate cost savings and cost avoidance recommendations. 
Why So Fast, And Why Now?
And the change is happening quickly.
The pandemic introduced a permanent change to office real estate
and business practices alike. The short-term disruption will undoubtedly translate into sustained changes in long-term practices. Once content to lose hours of their day to long commute times, workplace professionals are now acquainted with the benefits of working from home, and hesitant to make those same sacrifices in their next working normal. Companies are showing less resistance, having experienced the possibilities of a remote workforce.
The appetite for and success of at-home work is causing many employers to rethink their long-term real estate needs as they move forward into post-pandemic operations.
To adequately plan for this next era, company leaders need real-time data to understand their current space use, and to shape their post-COVID recommendations to senior management. Basking's cloud-based workplace analytics provide the fact-based overview to help professionals ground those recommendations in quantitative insights.
Companies are also turning to Basking to trace office-to-office visits, confirm social distancing compliance, and manage employee safety. If a COVID-19 case is reported from one office, Basking's data can inform the company of any traffic that has traveled from one office to another. This can direct cleaning efforts and employee communication, providing better transparency and peace of mind across the full spectrum of office activity.
Density levels can also be measured, and high-density alerts can be put in place in case an area exceeds occupancy limits. That real-time information also translates to proactive planning—employees can check room occupancy, choose the best time to enter the office, reserve available rooms and desks and make sure their team members know which spaces they've used.
Commercial real estate optimization has always been important. But after COVID-19, only a fraction of the working population is ready to return to work, and real estate professionals are faced with a number of challenging tasks: reviewing and adjusting long-term lease arrangements, planning for capacity changes, adding more flexibility into the use of their real estate portfolio, and making recommendations for how the company can decrease real estate costs while meeting their needs. This is a process that, if done well, can be a differentiator for real estate professionals in the post-COVID market—and it's a job best done with data on hand.
Sales are always the best indicator of market fit, but recognition doesn't hurt either. In 2020, Basking was shortlisted as Proptech Innovation of the Year by Property Awards – the leading real estate industry award in the UK, won the German Property Association (ZIA) Annual Office Day Awards in the "Software" category, and became a MIPIM Startup Competition Finalist in Hong Kong in 2017.
With my focus on PropTech, I have looked at soo many companies in this space, and this is the one I'm excited about.. Their highly-scalable solution is intent on helping companies optimize real estate usage and improve work environments, and it's intersecting the market at a time when those are inevitably the top two priorities of any real estate professional and employer that's navigating this new market.
Similar to ad exchanges and Data Management Platforms (DMPs) in advertising, Basking equips decision-makers with the critical data they need to make highly informed decisions about supply and demand of the workstations available to employees on a daily basis.  Informing office footprints and identifying cost savings, I believe Basking's clients will quickly win the post-COVID market and become an understood bit of infrastructure. Soon, no one will be able to imagine making these decisions in any other way, cementing Basking as a pillar of the post-pandemic workplace.