One of the reasons I love what I do is that
I get to see the future being built by today's disruptors
. I get to be a part of bringing to life a founder's unique and inspirational vision of a changed and improved future. That's exactly the opportunity I have with my investment in PHION Technologies, a company working to become the global standard for delivering truly wireless charging at a distance. The company is reimagining how we charge our devices, a change which would impact the very infrastructure of our day-to-day lives.
Wireless technologies have disrupted how we live, from Marconi's first successful commercialization of radio waves at the turn of the 20th century, to our ubiquitous 21st century cell phones and wireless headphones. While all our wireless technology has been transformational, there has been one constant in the midst of all that innovation: power cables.
As any frequent traveler will tell you, the waiting area seats that are nearest to the electrical outlets are prime real estate. The anxiety around being stuck midflight with a 'dead' device is palpable. All electronics eventually require a charging event, tethering us to the electrical source while they recharge…until now.
Matt Nydell and his son Jon are out to convince the world to raise their expectations. Together, they're building a future uninhibited by endless cables, fixed wall plugs, and chargers. Matt is a lawyer by trade, having spent over 35 years in both practical private law practice and in general counsel and senior executive positions, including at an electrical and power cable manufacturer based in London. As he progressed through various business and corporate development roles in the company, he kept asking the question, "When are we going to start moving away from plugs all together to be completely wireless?"
It turns out that the answer to moving away from the constraints of cables and plugs came from his son, Jon Nydell, an engineer who worked for nearly four years as a Senior EMC/Survivability Engineer on SpaceX's Crew Dragon spacecraft program. As he tackled the problem of reducing vehicle mass in order to lower fuel costs for SpaceX launches, he came to understand that nearly 40% of total vehicle weight is literally tied up in conduit, electrical connectors, sockets and miles and miles of cabling running throughout a spacecraft.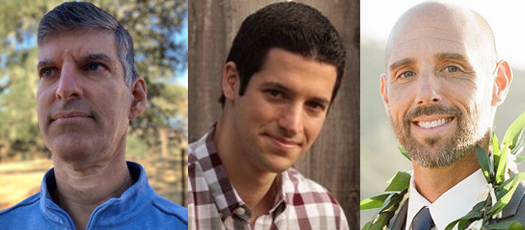 The third cofounder, Jeff Maselli is involved with team building and product ideation. He leads PHION's talent management, in addition to supporting corporate partner outreach and fundraising . He has a strong background in sourcing the best technical talent available. Prior to PHION Technologies, he built and led executive search for  Facebook.
The team started in July 2017 to bring their unique solution to the market and solve the challenges that limit us to power chords and wall outlets. Until now, these technical challenges seemed insurmountable. This team will be the first in the engineering world to surface the technical solutions, along with the economic roadmaps that would allow spatially-independent wireless charging in everyday life.
Power, Distance and Safety
The three main variables for wireless charging that engineers have grappled with are power, distance and safety. Many people have figured out how to transmit power, but have only been able to optimize two out of the three of these factors. In order to do so safely, trade-offs always had to be made – either you could transmit a significant amount of power over short distances or a little power over long distances…but not both.
PHION Technologies
changes all of that. The secret to success in business is to make a customer's life easier, better, or richer, and as the first wireless charging company to deliver useful power to multiple devices across larger spaces, they are doing just that. The potential cost savings of this technological differentiator are huge. From my perspective, it will permanently change the very infrastructure of commercial real estate.
This is an unusual PropTech investment for me, as it has lots of opportunities even beyond the real estate world. But I am particularly excited about its potential in the real estate realm.
Any building developer will tell you that electrical cable has significant installation costs (more than $25/sq ft); that alone can be a game changer.
With the rise of the Internet of things (IoT), something has to power all those devices, and PHION Technologies' innovations will ensure that there will not be a cable attached to every one of those 'things.' Once you start thinking about the possibilities of an untethered world, the impact becomes clear.
The promise of freedom and mobility can now be liberated from the physical considerations of cable charging stations.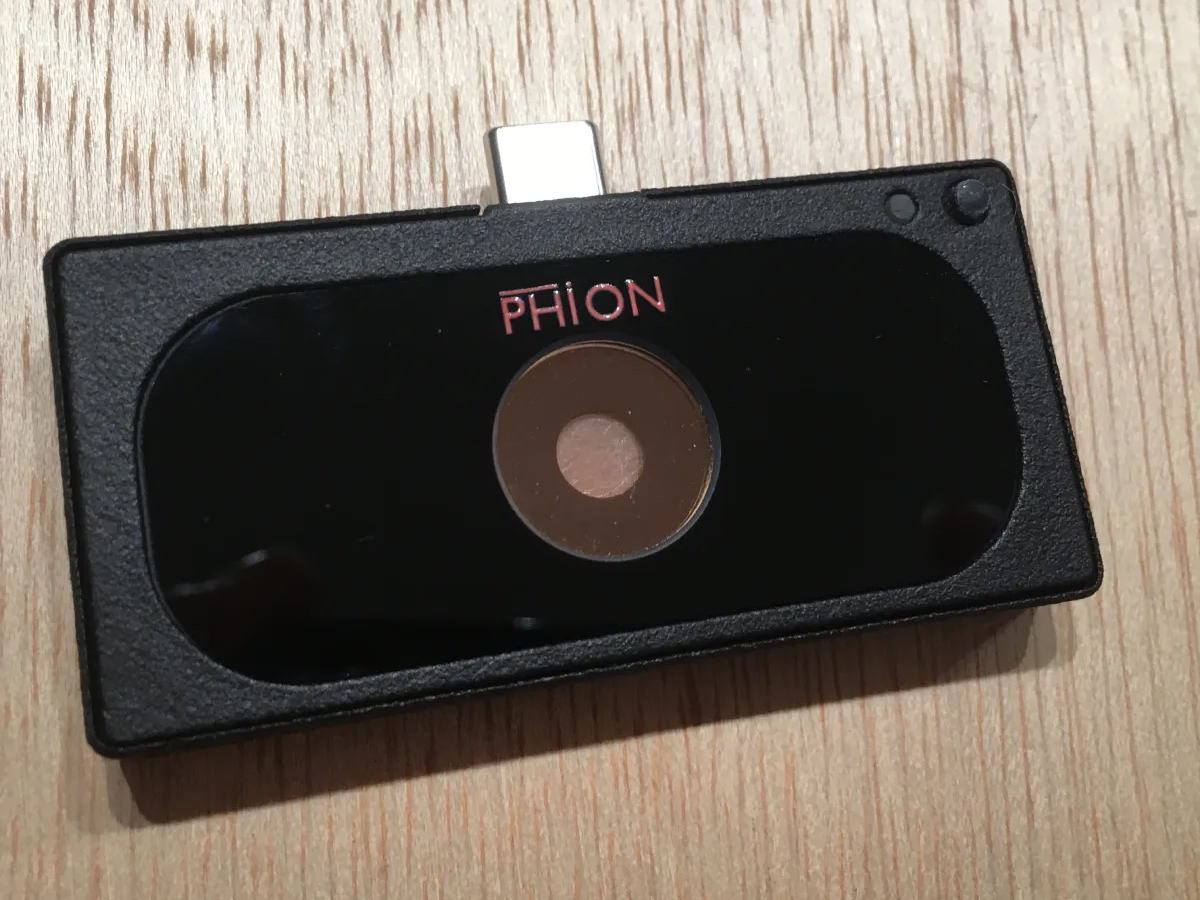 Once you start thinking about the possibilities of an untethered world, the impact becomes clear. The promise of freedom and mobility can now be liberated from the physical considerations of cable charging stations. With PHION Technologies, efficient, light-based power is transferred up to 20 W for as far as 30 feet away, in a safe and secure (virtually hack-proof) manner. This can eliminate the costs and limitations of electric cabling, increasing battery optimization and lifespan. In fact, this change alone could radically alter future device design; currently, up to 30 to 40% of device space is occupied by its battery.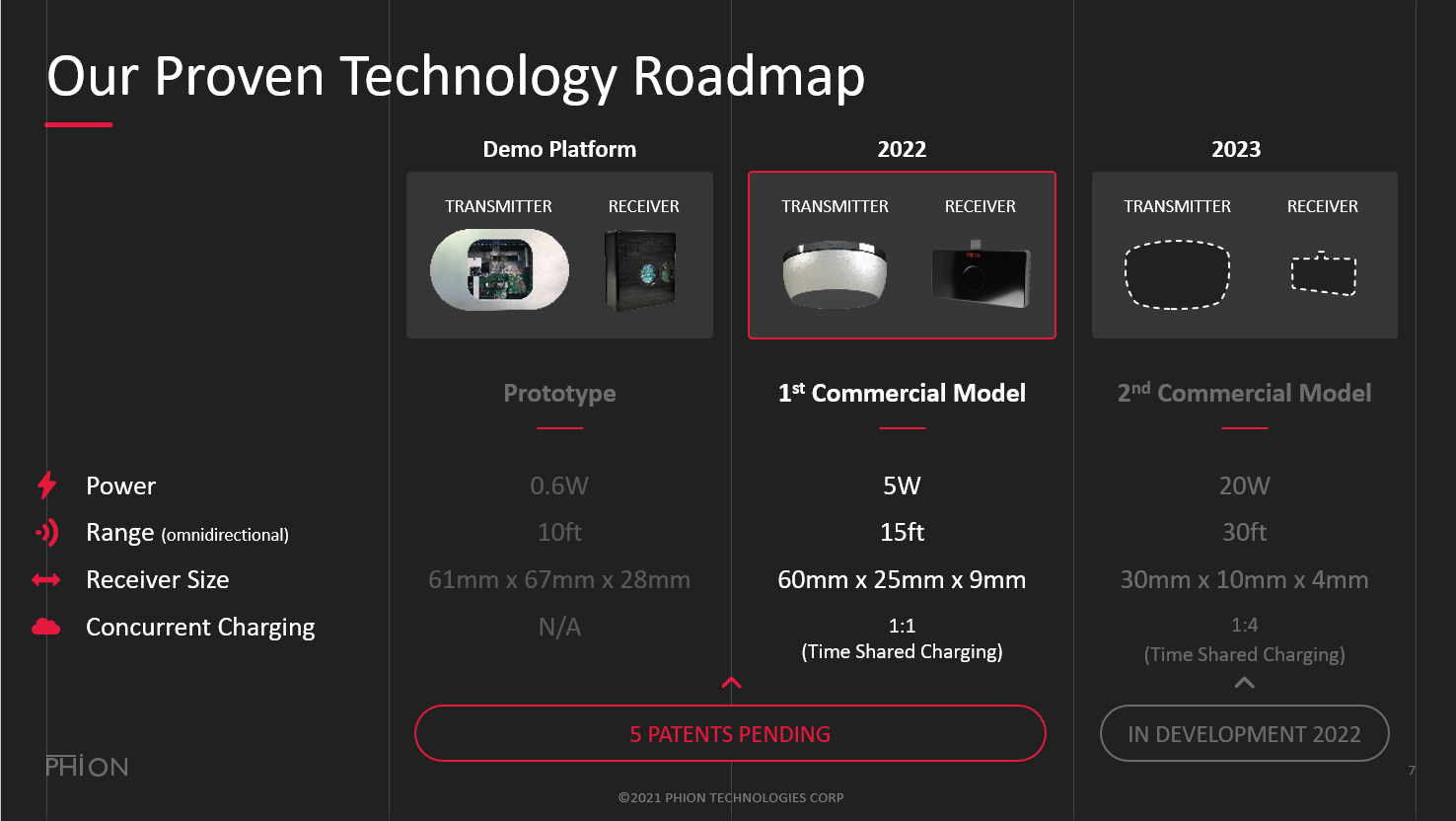 PHION has one granted patent and four patents pending for transmitter and receiver hardware that uses infrared light to transmit power. Contrast this with older technology that uses (radio) RF technology, and the benefits of accurate and directional power transfer becomes clear. Product development has been the focus for the PHION team in the early days of the company. While the first prototypes could transmit 0.6 W omnidirectionally over 10 feet, PHION's first commercial model (set to release in 2022) will dramatically improve performance, transmitting 5 W over 15 feet. Initially manufactured in the United States, the receiver hardware connects to USB and Apple lightning connections and is a fraction of the size of a mobile phone. Subsequent generations will become smaller and eventually, the goal is for the technology to be directly integrated into a variety of applications making it invisible to the user.
This technology is relevant across many different sectors, including the Internet of Things (IoT), travel and hospitality, commercial real estate and the future of smart cities. To begin, PHION is working to nurture infrastructure support for their technology by having its transmitter integrated into built environments. As market adoption builds, the company envisions garnering OEM partners that will allow the transmitter and receiver technology to be integrated into OEM devices.
PHION has had tremendous interest from the marketplace, particularly in the construction and real estate markets. They currently have several corporate partnerships in place, in addition to 6 to 7 pilot firms who want to publicly demonstrate the technology. Those companies include:
Mitsubishi Estate Corporation
Kajima Corporation
Tokyu Land Corporation
Vienna International Airport
Once those initial pilot programs have sufficiently proven themselves with infrastructure providers and property developers, these companies all have large portfolios of company resources that will need PHION's platform (power and data) to be launched throughout their enterprise networks. In the short term, there is immediate potential revenue from the pilot companies in the commercial real estate and construction industry of $200 million. Expansion opportunities just within PHION's current pilot companies' portfolio properties could total $700 million in revenue over the next five years.
This technology has potential application across multiple sectors to intelligently power the smart cities that are shaping the future. Jon was telling me about one 'smart city' pilot program they have running in Tokyo, Japan, and another they are planning to run at a flexible workspace environment attached to the Vienna International Airport.
As the digital world seemingly takes over our lives, I am very excited about the long-term opportunities and can't wait to see a truly wireless, untethered future become reality soon!