One of my latest investments is in an enterprise 3D tours software company that is revolutionizing many different industries, all at once, architecture, property management, insurance, financial industries, government and consumer real estate management.
This innovative PropTech company allows users to use an iPhone to scan a room and capture an unprecedented amount of information about any property. That metadata can then be leveraged in so many applications, to facilitate better marketing, more complete management, and more thorough record-keeping about that property.
I'm so excited about this investment because I believe that this company is completely disruptive and will do for the real estate world what Google Maps did to traditional maps.
Redefining Real Estate Marketing
People have been pouring over pictures of potential real estate purchases for decades, but over the past few years, 3D tours have been taking over. InsideMaps has become a leader in the field of 3D tours, which has become crucial during this pandemic. In so many industries, we see that COVID-19 acts as a catalyst for change, and real estate is no exception.
The pandemic has forced those in the real estate industry to embrace virtual tools to ensure their survival, and InsideMaps is just such a tool.
Real estate professionals can create 3D tours, 3D models, photos, videos and data reports to share with potential buyers.
Property owners can generate floor plans and try out potential décor choices like furniture pieces, room paint colors or flooring options to see how they might look.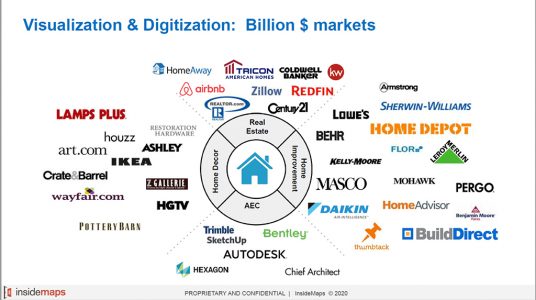 Streamlining The Process for Appraisals & Insurance Claims
But 3D modeling is just the tip of the iceberg for InsideMaps. As you delve into the company offerings further, you'll recognize that this technology can do so much more than help real estate agents rise above the competition. The employment of visual representations is greatly increasing and making its way into many facets of the real estate industry, including appraisals in the valuation and mortgage sectors. InsideMaps has a feature that can capture the details of home appliances and HVAC systems with just a photo. Those assets are matched to a comprehensive database of known products to provide complete inventory—right down to the make, model, finish type and manufacture date.
They have literally created a whole new market. Previously, a mortgage appraiser could only see a few properties in a day, and now they will be able to be so much more productive. InsideMaps modernizes the process and provides much-needed consistency. What used to take an average of 42 days can now be reduced to 1 day. Moreover, this tech generates a lasting record of the property at the time of inspection, which makes this service a valuable tool that can be used as credible proof in fraud prevention and will facilitate easier future maintenance efforts for property managers.
Disrupting Architecture & Interior Design
The technology is unique in that it is able to classify interior objects, which has implications for users desiring to manipulate information or capture other aspects of a house or business location. The app takes the highest possible quality photography from an iPhone and makes rooms visually appealing in professional-quality HDR photos.
Additionally, detailed 2D floor plans provide a simple overview of the property, including editable labels and measurements. Both 3D tour videos and interactive 3D walkthroughs can be created, allowing the viewer to navigate through an area as if they were physically there. Lastly, a cool 3D model provides an advanced digital replica of the building, which can be transformed with a new layout, furniture, flooring, or paint!
InsideMaps offers a user-friendly, intuitive app equipped with a tripod head, which is easily controlled by an iPhone. Generating a project can be accomplished in three simple steps:
Scan the indoor and outdoor areas with the iPhone app
Upload your project by clicking the Finish button
Let the servers do the rest.
Once your project has been processed (which happens within hours—not days, as other competitors require), accurate 3D models and floor plans are ready to view and use.
In light of the current challenges involving market uncertainties, social distancing, and other restrictions, there is no better time to integrate this methodology. I believe that COVID-related limitations can be greatly reduced with the use of 3D models and virtual tours. InsideMaps has identified the possibilities for digitizing the buildings in interior design, direct sales for furniture/housewares distributors, and home improvements or renovations. 
3D Tours Software: Massive Market Potential
The company has analyzed the existing solutions available versus the unmet needs for all these industries and identified $2B+ in market opportunity; they have discovered that the unique information that InsideMaps captures creates market opportunities at 100X more than the competition.
Smart, Passionate Founders
I always consider two important factors when I invest in startups. First, you should invest in products or services that can prove their marketability, and second, invest in passionate people. Founders need to be obsessed with their product and possess genuine expertise that will weather the storm and reach success. At InsideMaps, George Bolanos (founder & CEO) and Jörgen Birkler (founder & CTO) are two such individuals.
George was the founder of Wanadu Web Conferencing and the Director of Technology at Sony Mobile. Jörgen worked in Silicon Valley at Sony Ericsson as Head of Applications & Services Development for the Xperia line. Both George and Jörgen have aimed to stretch the limits of what a smartphone can achieve in computer vision and have been earnestly focused on the development of machine learning, spatial visualization and digitization.
Faster, Easier and Less Expensive Than The Competition
What I like about InsideMaps is that it is different from its competitors. For instance, the app doesn't require agents to purchase expensive equipment such as DSLRs and tripods with panoramic heads. These competitive setups can often cost thousands of dollars, but with InsideMaps, clients can create content with their iPhones and the InsideMaps HERO™360, an inexpensive motorized panoramic tripod head. With this incredible tripod head, clients can instantly scan and acquire a 360° panoramic view of their space, which is completely automated and ready to use. Paired with a Bluetooth device and an iPhone mounted on the HERO™ holder, anyone can capture imagery with greater precision than regular handheld photography.
Essentially, InsideMaps has eliminated the sizable cost of hiring professional photographers, video production specialists, inspectors, appraisers, draftsmen or interior decorators to generate metadata. Agents or property owners can quickly create their own immersive, polished walkthroughs with minimal effort, creating a shareable experience that looks fantastic on social media feeds and create actionable data about the property. 
As I do with all my potential investments, I did my own due diligence, reaching out to my own network of property managers, brokers and mortgage providers who agree that this technology is an absolute breakthrough – the best they have ever seen.
Impressive Machine Learning and Self-Contained, Actionable Metadata Production
To produce all the 3D content and semantic data, InsideMaps' technology uses patented computer vision algorithms and a unique active learning process that self-improves with more data. By partnering with other outsourced entities, competitors can generate some of the same information… but it takes days to get it.
InsideMaps understands that their customers need fast, reliable solutions that don't cost "extra." Because of the way the proprietary InsideMaps technology works, there is no need to wait; the metadata is available within hours.
The company is experiencing rocket-level growth, in a manner that reminds me of Vungle's trajectory years ago. They have already achieved profitability, with current customers' revenues expected to reach a revenue run rate of $15M to $25M by the end of 2021. They have an impressive client list of industry-leading clients like Home Away, Quicken Loans, American Family Insurance, Invitation Homes, American Homes 4 Rent, and many others. They also have a strong pedigree of investors and partnerships with leading marketing real estate companies.
When you see InsideMaps, you are seeing the future of real estate, insurance, architecture, home improvement and interior design. With COVID as an accelerant and their proprietary technology giving them a massive competitive advantage in terms of ease, speed and cost of delivery, InsideMaps has a colossal competitive edge in 3D visualization and is redefining these other industries as well.