At this stage, the immediate threats brought on by the pandemic are reduced. But the long-term considerations that were brought to light during the period of reflection are intensifying. Most established investors know that taking a look at the up-and-coming ventures in the market, particularly those brought forward by experienced teams, is a good way to understand the needs of the time we're in. Necessity breeds innovation; smart investors take part in and fuel that innovation every chance they have.
That relationship is a textbook win-win. Any founder that cracks the code on reducing greenhouse gas emissions, or any new-to-market company that can prepare our cyber-security protocols for a more remote working world, have the potential to surface real returns for their supporting investors. Likewise, supporting investors have the chance to help to bring those much-needed solutions into the world. When profits and purpose align in that way, powerful things can happen in the short and long term outlook.
Collective experiences are powerful. The necessity of the pandemic bred new innovation; here are a few places I'm watching new and established founders gain some ground. 
Going Green: From Aspiration to Expectation
During the pause of the pandemic, people reconsidered everything from where they buy their clothes to why they commute to an office. As the economy stabilizes and consumer activity resumes, sustainability has taken the driver's seat as the motivating factor for consumers at large.
The new green motivation will continue to be a huge force in the real estate market. The office outlook is a tenant's market, and landlords will win employer affinity only with quality and sustainability; solutions for air quality, water filtration, HVAC capabilities, and pathogen eradication. Recent green innovations — LED lighting, solar power, high performance windows and wall insulation — are being rewarded across the market.
Investors are increasingly asking for Global Real Estate Sustainability Benchmark reports, and tenants are speaking the same language, asking for WELL Building Standards performance before making their final decision.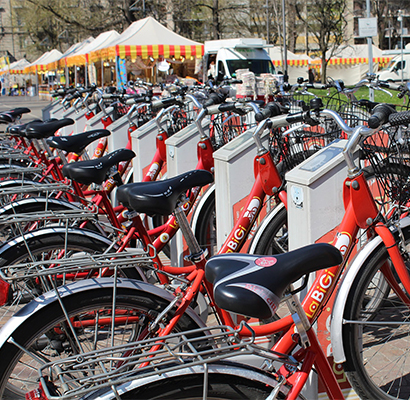 Market competition and investment appeal will be driven by health — health of people and health of the planet — and it will happen across all industry sectors. Every company has had to pivot, and has had to communicate that pivot to their consumers. Such transparency has set a new standard, and consumers have higher disclosure expectations as a result. New-to-market companies that can help landlords, hoteliers, and owners in the logistics sector take those forward steps will be well rewarded. 
Letting the Numbers Speak for Themselves
Earlier in the COVID-19 outlook, Morningstar demonstrated that companies with strong environmental, social and governance (ESG) practices are outperforming their peers. They're more profitable, less volatile, and better at mitigating business risks that lead to bankruptcies. Companies with higher ESG ratings suffered less from COVID-19 sell offs, and ESG funds gathered a reported $10.5 billion in the first quarter of 2020. The average return across the thirteen ESG funds available to US investors in 2021 was
strong at 29.2%
.
Efforts were made throughout the pandemic to support those trends, and I'm expecting the same kind of investment activity to continue. Earlier, Goldman Sachs Group announced a new council of traders, sales staff and other experts to join forces on sustainable finance and investing. They aim to help clients continue to achieve climate change through investment commitments and profitable, sustainable portfolios. The council consists of 20 members who compare strategies and success for teams based in the Americas, Europe and Asia.