The majority of my start-up investments recently have all been in PropTech, but every once in a while, I'm exposed to a company, idea or founder that's so impressive to me that I'm compelled to act. That's the story of my involvement with Octane11 and its founder Dan Rosenberg.
Octane 11 helps B2B companies consolidate different types of sales, marketing, customer service & product data into one convenient platform. The result is organized information that can be analyzed in

Octane11's centralized dashboard or pushed to existing business intelligence tools platform for better, more streamlined decision-making.
Enterprise companies lose enormous amounts of time and money gathering critical information to guide business activity and improve performance. The marketing department is a perfect example. Between PPC (pay per click), social media, digital PR, advertising, and other marketing activities, marketing teams can end up pulling data from at least 12 different sources. They juggle advertising platforms like the TradeDesk and Google Ads, social platforms like LinkedIn, Instagram, Facebook, and Twitter, chat tools like Drift and Intercom, as well as website monitoring systems like Google Analytics or Adobe Analytics and marketing automation platforms like Eloqua or Marketo.
At the same time, the sales teams may be pulling information from several relevant CRM systems like Salesforce or HubSpot and data providers like Bombora, Dun & Bradstreet or ZoomInfo. And that's just the Marketing team; the same cacophony of tools exists in pretty much every other department in the organization – sales, product, customer service, HR, finance, and so on.
The information from all of these tools is instructive and helpful for each business team, but it's typically highly siloed, with each team member looking only at the data that is relevant to their particular focus. By looking only at their piece of the puzzle, they are missing out on a lot of valuable data, a big-picture outlook that could change and improve decision-making.
Strategic planning can't exist in a vacuum. All of these efforts are interrelated; what you do in one area can have a dramatic effect on the outcomes in another. In order to make decisions that support and accelerate enterprise growth, data needs to be reviewed across platforms. Octane11 has a unique approach that makes it not only possible, but vastly more cost-effective than attempting to build your own custom data stack with a data warehouse, ETL tools, and an army of data engineers and data scientists.
The benefits are tremendous, and hard to overstate. Multiple teams will be able to mine data that impacts multiple areas–sales, product development, service and marketing. Octane11's customers are already enjoying faster reporting and execution time as well as smaller duration between the initial sales meeting and the close. In addition to the significantly reduced reporting times, their marketing teams are able to develop more varied creative concepts, and proceed from ideation to execution in less than half the time used to take. 
The professionals can see and refine their marketing efforts for better, more actionable leads and stronger account engagement.The result is faster, more successful sales.
When you look at the potential market size, you find that there is tremendous future upside.
Some recent information from Salesforce shows a $34B TAM (Total Addressable Market) for Enterprise Analytics and Integrations (represented by Salesforce's Datorama and Mulesoft business units), which is expected to grow to $49B in 2025.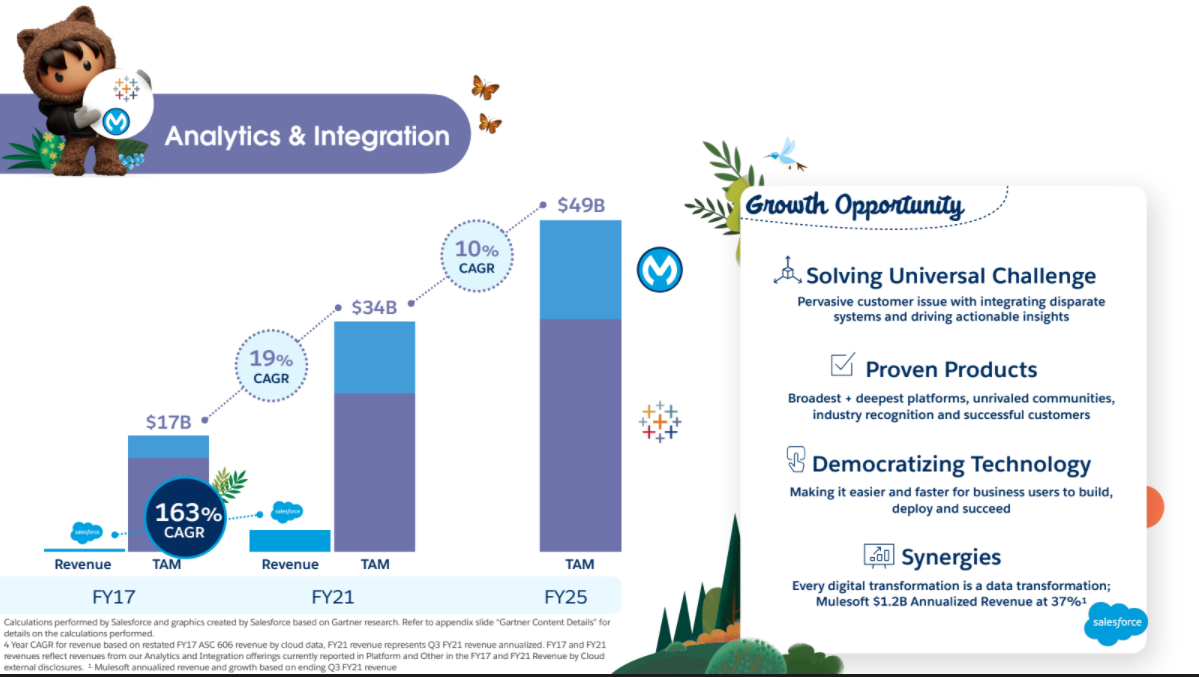 Rosenberg spent a year during quarantine with a small team incubating Octane11 at MathCapital, the early-stage venture capital firm affiliated with MediaMath. They then launched the service in December 2020 and saw immediate client traction. Rosenberg and his founding team are veteran sales, marketing and product development professionals who had a front row seat to the industry, working with large B2B clients and saw the need to provide proprietary data, workflow and analytics tools in a simplified package for enterprise-level marketers.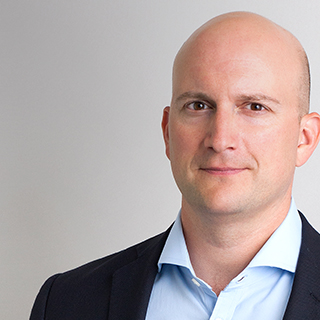 CEO Dan Rosenberg has held, in equal measure, financial, marketing and entrepreneurial roles throughout his career. Prior to founding Octane11, Dan served as chief strategy officer and chief of marketing at MediaMath.
In that capacity, he felt firsthand the frustration and challenges associated with trying to manage many different marketing functions. He understands how difficult it can be to corral creative development and multimedia campaign planning, to execute and measure impact across today's marketing channels – and to connect those activities to the goals of the rest of the organization.
That's what led them to see the need for better ways to harness data for those who engage their customers across a broad range of tools and platforms.
My background is in marketing, so I quickly understood the pain point. It really was a 'no-brainer' when it was described to me. When Dan showed me a demo of the platform, I got so excited. I would've loved to have had all that information at my fingertips when we were making decisions for how best to leverage Vungle's marketing spend and share the resulting business intelligence data with my leadership team. Building a quarterly board deck with all relevant measurables would've been so much easier if I had had Octane11 when I was presenting to my board back in the day.
The Octane11 team has worked in partnership with other industry leading platforms to deliver for its customers, collaborating with Oracle Data Cloud, Intersection, Bombora, MediaMath, and several other key players to be announced soon to drive business growth through better, more accessible data for CEO's, CMO's, CRO's, CPO's and more.
Octane 11 basically offers B2B companies a simplified 'translation layer' that will quickly become a critical part of the software stack.
I believe that this is how software will connect in the future–linking everything together and facilitating the fastest and easiest ways to access the information needed to make decisions and adaptations based on incoming real-time data.
By simplifying the process and presenting the data in customizable ways, disparate teams of executives can share their insights. The data can then transcend individual functions to offer a holistic view of the campaign's success.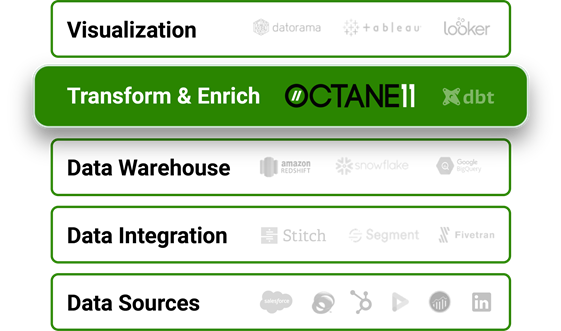 I rarely make investments strictly from my family office, but this was one I could not ignore. It was so interesting that I had to be involved, and I'm excited to see how Octane11 will disrupt the marketing world just as much as I did with Vungle over 10 years ago.