My latest investment leverages artificial intelligence (AI) to tap into a home security systems market that was just above $50 billion in 2020. Home security is a well-established but fast-growing category—Deep Sentinel is its disruptor, taking AI-based property protection to a whole new level.
[Above] Deep Sentinel's Winning Combination: Deep Learning Software + Live Virtual BodyGuards + Two-Way Audio Technology = Stopping Crimes Before They Happen
A Large and Growing Market
Crime has surged in recent years, and the home security camera market has climbed with it at a +15% CAGR (compound annual growth rate). Most security systems are reactive, alerting property owners once someone has invaded the property. Deep Sentinel is built for prevention, stopping crimes (trespassing, vandalism, burglary/theft) before they happen.
Across my own portfolio of properties, security is something I view as a necessity, and certainly an offering I want to extend to every tenant. But with a lack of practical options, finding solutions can be frustrating. 
The cost of staffing properties with security guards quickly exceeds any realistic budget, and even with that investment, it's a temporary deterrent. Integrating Deep Sentinel will allow me to offer much better answers and higher-level security in an incredibly cost-effective way.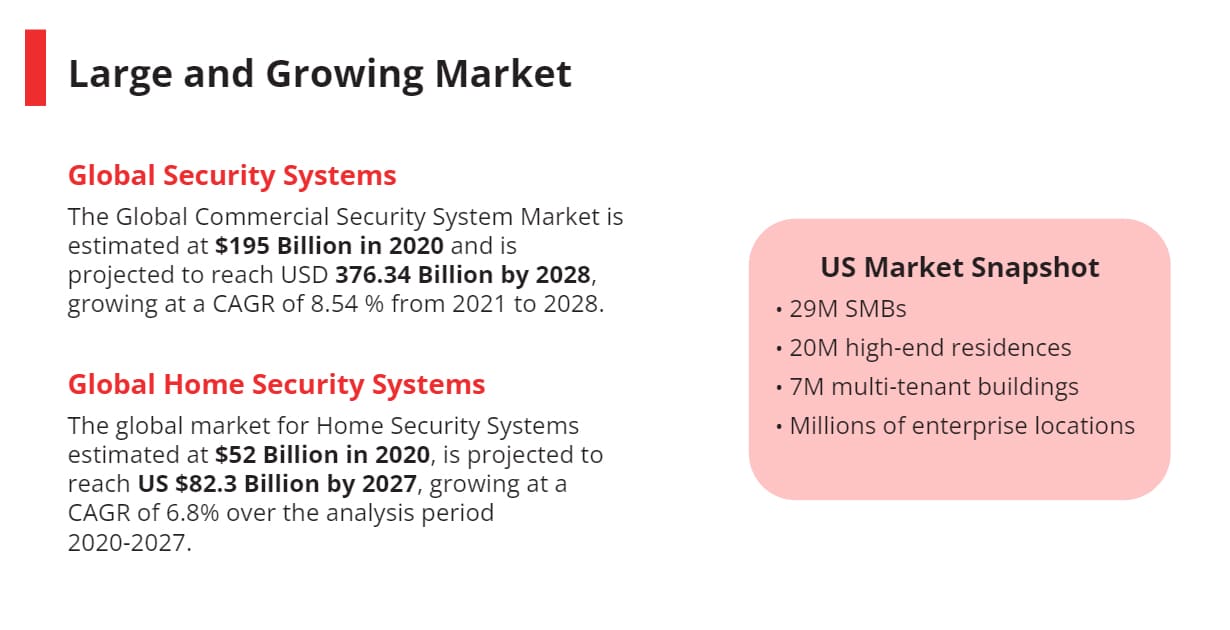 With its unique combination of deep learning software and live guards monitoring each customer's property 24/7, the company stands out in a crowded field of home security systems.
Customers have no shortage of camera-centric choices—Nest or Ring are two popular options—and monitored systems like Securitas, ADT, or SimpliSafe are in ample supply. But those simplistic home invasion protection choices have taken only baby steps in the direction of smart monitoring; the majority of these systems only record and report crimes after the fact. In addition, over 90% of traditional alarm system triggers end in the determination of a 'false alarm' which, over time, has led to police force ambivalence and slower reaction times.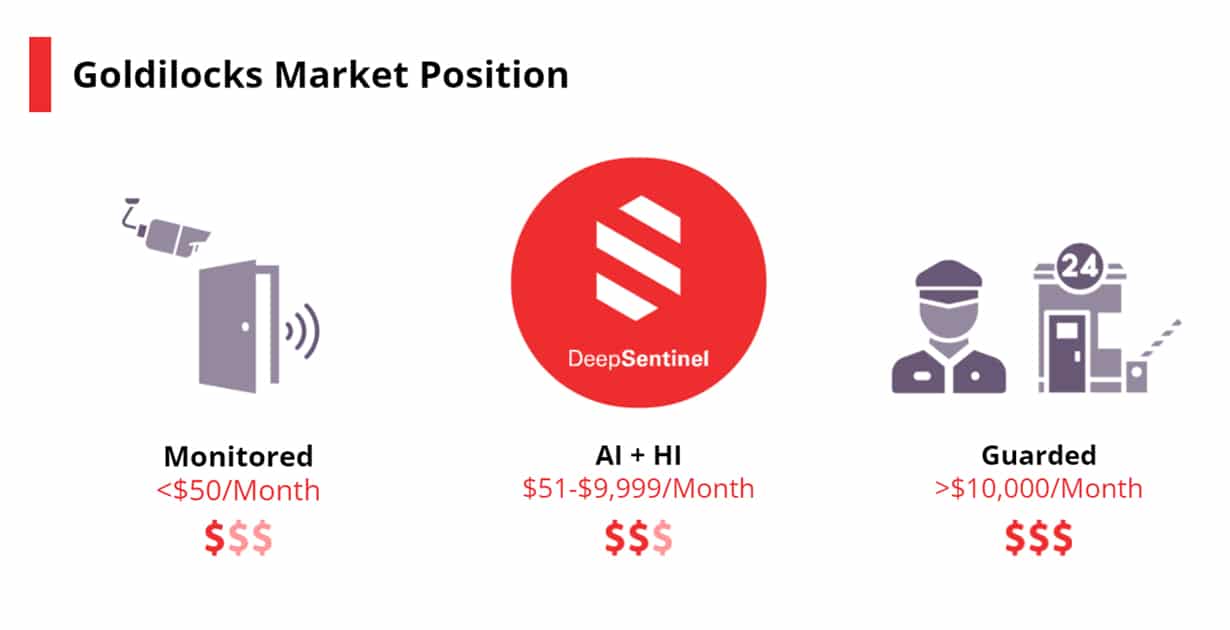 In order to shift from ineffective, delayed crime alerts to real-time crime prediction and prevention that is taken seriously by police departments and criminals alike, Deep Sentinel leverages a sophisticated and proprietary machine learning system. The smart technology alerts live virtual bodyguards when a crime may be about to occur–with enough time to act and mobilize against the threat. With two-way audio capabilities, the commanding (and hopefully scary) voice of your own live virtual bodyguard can communicate with intruders, to
notify them that they are being recorded and that police are on their way. This is usually enough to scare them off and stop the crime from occurring. Deep Sentinel's patented process has achieved proactive alerts that trigger within the first 20 seconds of an incident, an innovation that goes a long way toward both reduced crimes and improved peace of mind.
(Note: The FBI reports that burglary time frames are typically 90 seconds to 12 minutes.)
Deep Sentinel's deep learning software offers several benefits for the improved protection of their customers:
Perpetual Adaptability: Deep learning software analyzes video data to filter out 90% of innocuous events and learn to recognize the difference between 'normal' and 'suspicious' property activity.
Lightning Speed: AI can analyze data and recognize potential criminal activity within five seconds, notify live virtual bodyguards and provide guidance on the best course of action to mitigate or prevent the immediate threats on site. Reaction time for guards is less than 20 seconds.
Profitable Scale: Because of the way its systems are set up, Deep Sentinel can have its virtual bodyguards protecting multiple properties, which leads to much greater efficiency, wider impact and improved cost effectiveness. 
Disrupting Property Security
When AI first came into being, there were discussions about "robots taking over the world" and "computers putting millions of people out of work." As AI has matured, businesses now embrace the unbelievable data-mining and analyses that AI makes possible. They understand that AI is a powerful tool for processing unfathomable amounts of data in nanoseconds; a capacity that the human mind could never achieve. In that way, it's a value-add, and not a labor-replacement, that supports decision makers and action takers with better information.
Deep Sentinel is a perfect example of the value-add phenomenon. AI-enabled video analysis is not replacing the work of a live guard; it is streamlining their focus and efforts, expanding their field of perception, and increasing their capacity to do their job successfully. Supported in this way, Deep Sentinel's live virtual bodyguards can watch over more properties more effectively and with better cost efficiencies. 
Successful Serial Entrepreneur and Deep Learning Genius At The Helm
Founder David Selinger (Selly) is a passionate, serial entrepreneur and has been working with AI throughout his entire career. He cut his teeth as an early employee of Amazon in software management, working on the customer behavior research that powered its now-famous product recommendation system.  
He was instrumental in the founding and development of Redfin, the first map-based real estate search site, and he was founder/CEO of RichRelevance, a leading software platform for e-commerce retailers that highlights the most relevant products and content for visitors, creating greater customer experience personalization and ultimately improving revenue for those retailers. 
He's now turning his superior deep learning skills to the problem of home security and innovating just as he's done with his other endeavors.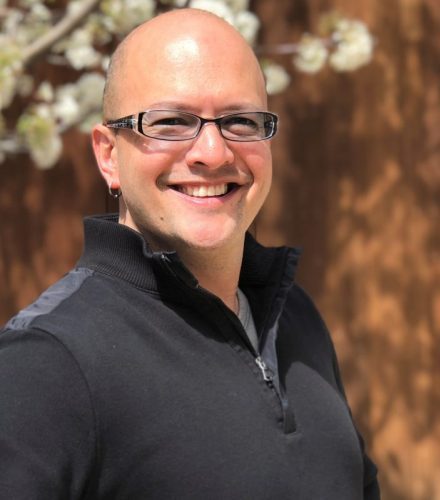 By tapping into the existing home security market of resellers offering 'power over ethernet' (POE) camera installations, Deep Sentinel is able to access the ballooning demand that already exists, particularly from high-net-worth individuals and small business owners. Their business model allows them to recuperate customer acquisition costs (CAC) within the first month and scale quickly within any given vertical. By honing their systems, Deep Sentinel has been able to achieve an 80% close rate, which means the business is growing by leaps and bounds.
The Deep Sentinel team is intent on continually refining and innovating, even as they focus their attention on building the company to $1 billion ARR (annual recurring revenue). I couldn't be more excited to be along for the ride.