Every year, Cathie Wood and her investment team at ARK Investment Management, LLC publish a report entitled Big Ideas, which outlines the themes and market activity that they believe will change the future. The team invests in what they believe will be 'disruptive' companies—ones who are destined to change the world (and enjoy massive growth in the process).
Anyone who has been following Wall Street knows that this prior to March 2021, this team was seen as superhuman, managing seven (7) ETFs that all have seen 150%-200+% growth in the last 52 weeks. In the beginning of March, these funds took a nosedive for several reasons: a rise in government-bond yields and taking a hit from market's sell-off of growth stocks in tech and innovation and a rush to what many investors believe to be 'safer' value stocks.
Regardless of this volatility, the team invests in industries and themes and looks for disruptors within those themes. Some of their Big Ideas included in the 2021 publication hit close to home for me and for the work I'm currently doing. Others are just interesting, and inspiring to read about. Here's a summary of their Big Ideas:
Deep learning: I've written a lot on the subject of AI, and I believe that using data to write software is smart. ARK believes it could 'turbocharge every industry;' their research indicates that deep learning could add $30 trillion to global market equity for the next 15 to 20 years (that's more than the internet added over a 20-year period!).
Re-Invention of Data Centers: New GPU processors are replacing Intel with more powerful, efficient processors. They're both faster and less expensive. While Intel seems stagnate, other accelerator architectures are taking over as the new industry standard. These are interesting theories—would you bet against Intel?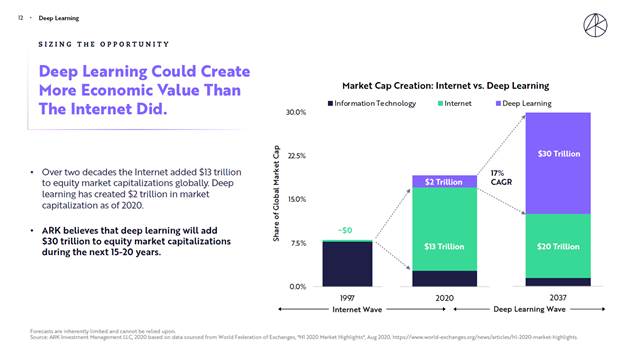 Virtual Worlds: The gaming world is where I built my company, Vungle, which provided income for so many of our customers, so it's no surprise to me that ARK continues to invest in the quickly-expanding computer-simulated environment. This is where people are coming to interact. ARK's research suggests that revenue from virtual worlds will grow to $390 billion by 2025.
The 'metaverse' is coming; converging disparate worlds are combining into one inter-operable virtual universe. When people spend a lot of their time in one sphere, there's money to be made.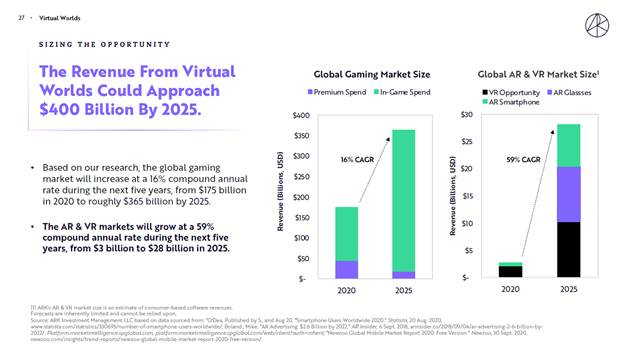 Digital Wallets: This to me seems less 'futuristic' and more a matter of the now. When you can 'Venmo' your friends, you've already become part of the main stream. I think COVID-19 accelerated this trend with contact-free, 24/7 access driving more widespread use. ARK believes this will 'upend traditional banking by activating those mobile phones—the bank branches—in user's pockets and handbags.'
Bitcoin: Wood sees Bitcoin as a bigger idea than Apple or Amazon, but looking at market cap right now, it's currently half their size. ARK has a $351 million share position in Grayscale Bitcoin Trust (a total of 7.3 million shares). Despite all the crypto-buzz, ARK believes Bitcoin's fundamentals are sound. Companies are considering holding Bitcoin as cash on their balance sheets. ARK's analysis suggests that it could scale from $500B to $1-$5T in network capitalization over the next 5 to 10 years.
Electric Vehicles: EV costs have come down, and battery design has improved, allowing electric vehicles to enter the mainstream. ARK projects electronic vehicle sales to increase 20-fold—from 2.2M to 40M units—by 2025. The risk for electronic vehicle investors is whether traditional auto makers can transition to electronic vehicles and autonomous vehicles successfully.
Robots: ARK believes that automation could add 1.2 trillion to the GDP +64% during the next five years. Industrial robots are reaching an inflection point, and demand for robots has increased dramatically.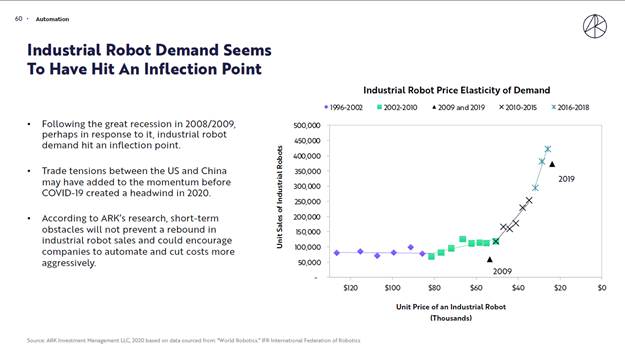 Autonomous Ride Hailing: As autonomous ride hailing vehicles become more affordable, the overall cost of ride hailing will allow for such vehicles to become more prevalent.
Currently, there are three different technologies dominating the space (see chart). Depending on which proceeds fastest, broad scale adoption in developed nations could happen as early as 2030.
Drones: Widespread use of drones for the delivery of food, packages, and eventually people (!) will open up new opportunities for several industries. In addition to the $275B revenue that ARK is expecting to come from drone delivery itself, they expect an additional ~$50B to come from hardware sales, and ~$12 billion in mapping revenue by 2030.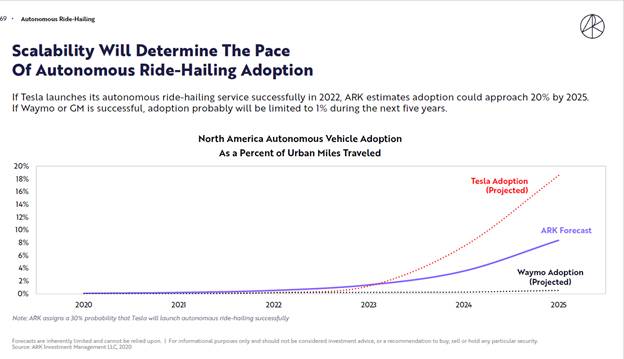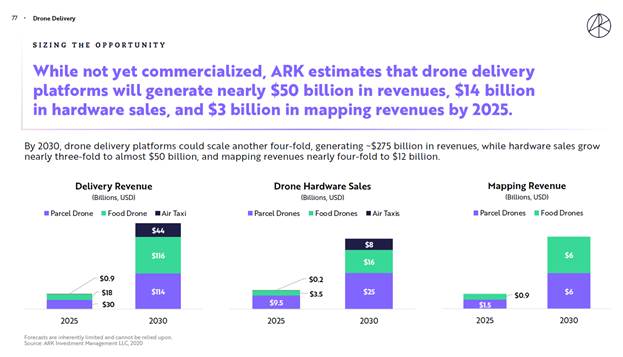 Orbital aerospace: It's out there, man! ARK sees three areas of orbital aerospace industries that will make huge strides in the short-term:
Low earth orbit satellites that can enable true global cloud computing, increase connectivity and tap into a potential $100 billion market
Hypersonic flight that promotes a more worldwide economy and allows for faster service around the globe. This will collapse flight times from 10+ hours to 2 to 3 hours
Lower rocket costs and greater reusability, as demonstrated by SpaceX's reuse of its Falcon9 rocket booster, will eventually lead to multi-planetary travel and will be a multi-billion dollar business.
3-D Printing: By 2025, ARK estimates that 3-D printing will grow 60%—from its current $12B to $120B.
Already, it has had revolutionary effects across multiple industries. 3-D printing shrinks the time from design to production, reduces supply chain complexity and puts power in the hands of designers.
The cost implications are huge; the technology reduces waste and delivers products at a fraction of the cost of traditional manufacturing.
Long Read Sequencing: DNA sequencing has been dominated by short read sequencing (SRS), but ARK believes long read sequencing (LRS) is positioned to see massive growth in the next five years.
As the technological cost of LRS creeps closer to that of SRS, more clinical applications could shift to LRS and take advantage of its superior analytics.
As they review the market, ARK believes the demand for LRS could grow 82% through 2025.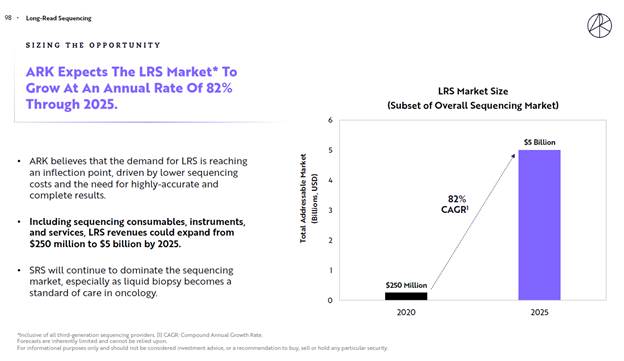 Multi-Cancer Screening: Considering the dramatic declines in screening cost and the massive advancements in screening technologies, ARK believes multi-cancer screening will grow to $150B in the US. Such a radical shift would prevent 66,000 cancer deaths per year, which would save approximately 1.4 million human life years.
Second Generation Cell and Gene Therapy: A field in its early days, cell and gene therapies are expected to shift from liquid to solid tumors, which comprise 88% of diagnosed cancers. The application of AI, gene editing, and next generation sequences should reduce failure rates and improving the time-to-market pace, which would accelerate approval rates for new cancer therapies. ARK believes new cell and gene therapy innovations could be a 20x multiplier for the total addressable market for oncology therapeutics.