There is so much opportunity in real estate for PropTech and FinTech disruptors to innovate and elevate landlord/renter interactions. My investment in Roost, done via VC fund at BlueField Capital, is a step in that direction.


Entrepreneurs are finding that their innovations, propelled by artificial intelligence (AI), machine learning (ML), and digital automation, are reshaping the rental experience to everyone's benefit—renters, property managers, and owners alike.
Roost applies that innovation to a larger vision, by managing the deposit payment and compliance process for properties and allowing renters to tap into their security deposit to smooth out cash flow. Their visionary offering enables tenants to pay themselves back in order to build credit and work towards long-term financial stability, while at the same time liberating property managers or owners from the burden of handling and protecting security deposits on their own. 
Renter Liquidity: Challenge Accepted
The average net worth of a rental tenant in America is $6300, and it isn't unusual for renters to have to put down multiple security deposits for the property they are renting; security, pet, storage, garbage and cleaning deposits quickly compound. The total amount deposited can represent anywhere from 16-30% of that renter's net worth. It's a necessary language of security between tenant and landlord, but it prevents the tenant from leveraging that portion of their personal financial portfolio. It becomes an illiquid cash asset, held for a year or longer, that can't be put to better use.
Roost helps renters reclaim that liquidity by providing ways to tap into up to 40% of their security deposits with a 90-day repayment plan and to earn interest on their deposit balance. Their process also provides renters with on-going transparency into the status of their refunds and any charges, provides faster electronic refunds, and can distribute refunds per roommate, the first development of its kind. 
Leaving Applications and Credit Checks Behind
Because nearly all renters automatically qualify and no credit-check is required, they can access these funds without the added headache of navigating complicated loan application processes, potentially detrimental credit checks or onerous, usury-level interest rates. 
An important alternative to outdated strategies, like payday loans which can carry a crushing APR average of 372%, Roost's process requires both fewer steps and is low risk—for the property and the resident. 
In addition, taking draws on their refundable deposits and making repayments can provide a starting point for renters to build or improve credit, contributing positively to their overall financial health and well-being. 
For Landlord/Property Managers: A Workload Simplified
Ever-changing and complicated administration, accounting, and compliance requirements make security deposits a hassle to manage. Every state has a different handling protocol, each of which are apt to change (and often do). Staying abreast of the latest regulations and ensuring full compliance is at times a full-time job. And the consequences of error take the form of sky-high fines; 40% of all residential small claim court filings relate to security deposit disputes.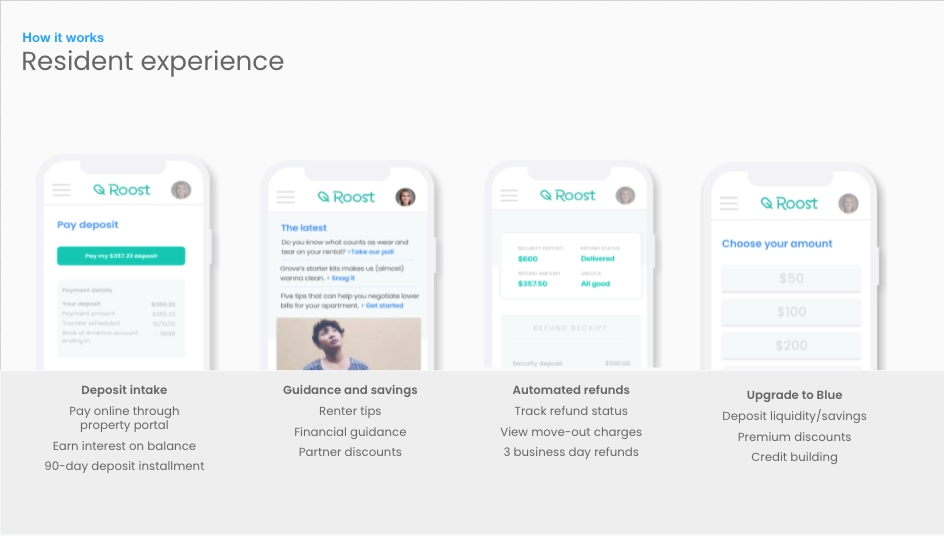 By automating the deposit intake and refund process, holding the deposit in FDIC-insured trusts or FBO accounts, and extending the ability to set unique requirements for rent board or jurisdiction regulations (all at no cost to the property owners or managers!), Roost becomes a "no-brainer" for landlords. 
There's no monthly SaaS cost to properties, and Roost handles the money movement, displays damage charges in the renter app, and provides ongoing status updates, which creates a hassle-free, worry-free experience for landlords or property managers. The process is entirely automated, which saves time, money and headache for management teams, while at the same time reducing the risk of default because all the transactions are debited directly from the tenants' checking accounts. 
With 110 million renters executing $60 billion worth of security deposits, there is plenty of upside for Roost to tap into. For cash-strapped renters, Roost provides a much more attractive alternative to payday loans, late fees and high-interest credit cards and helps them improve their long-term financial health. Currently 12 million Americans borrow $46 billion in payday loans and pay $9 billion in fees for access to that liquidity. Clearly there is unmet demand for better liquidity options, and Roost is meeting that need.
Roost targets multifamily portfolios with 2,000+ units focused on workforce and middle-income rental housing, with target end user that are typically 18-35 yrs of age with 580-730 credit scores and an average security deposit of $750. 
Roost's Competitive Advantages
The digital solution to this age-old dilemma is highly intuitive. Roost fits naturally into the workflows of Property Managers and can scale quickly by leveraging multifamily portfolios, especially with no-cost pricing. For tenants, the ability to improve their credit scores creates a symbiotic relationship with Roost versus payday loans (which are increasingly understood as wildly predatory).
It is also unique from other FinTech offerings due to the fact that the company has few liquidity constraints; customers can self-fund deposits and organically grow the pool of assets under management without the need to borrow/raise debt funding. Renters also receive renting tips, financial guidance and access to deals along their entire renting lifecycle, helping them to both leverage and protect the money they have to improve their financial health. 
There are many startups trying to replace the concept of security deposits, like Jetty, Rhino or LeaseLock. These products are slightly different, as they are renter insurance products or surety bonds. In addition, these alternative solutions are only adopted by a small percentage of tenants in any building.
Roost fits more naturally into the current way security deposits are managed and should see faster building-wide adoption – even in situations where alternatives are being deployed. In addition, those other untested security deposit alternatives provide no incentive for tenants to take care of properties, while Roost's solution maintains that incentive.
For every startup, timing is everything, and the market timing is great for this product. Roost is entering the industry at the right time, as regulations are tightening up due to COVID and the FinTech stack is maturing. Roost benefits from what has already been done in FinTech and is leveraging and building upon that for its offerings. For example, Roost has integrated Plaid so they can automatically debit funds from a tenant's personal checking account to ensure prompt re-payment. 
Fewer Startup Hurdles For Funding
Most FinTech/PropTech companies need to raise loan capital to provide liquidity to customers. Roost is unique because available liquidity is funded by customers through their own security deposits. 
Quick Customer Acquisition and Potential to Scale
Roost should have fewer adoption hurdles because the product provides immediate value to all parties and is free for Property Managers to implement. In addition, the product benefits from immediate scale when rolled out across any building. This should provide an important competitive advantage as the company can on-board hundreds or even thousands of consumers in an instant vs payday lending companies who need to spend money on customer acquisition.  
Unique, Attractive Credit-Building Opportunities For Renters
Renters with low credit scores have an incentive to employ Roost's solution to improve their scores. This dynamic is unusual, as liquidity options are typically inaccessible for the customers that might need them most. That offering will allow this FinTech startup to tap into a whole new market of users who have been otherwise excluded from traditional credit-building options. 
An Experienced Management Team
The start-up is at pre-seed stage and is headed by Chanin Balance, an experienced Founder (and multifamily real estate & PropTech investor) with three exits already behind her.
She founded VIA, an enterprise-scale, machine translation and tech-services company for legal and compliance that was acquired by United Language Group. 
She was part of the founding team for Veelo, a SaaS sales enablement and training technology that was acquired by Bigtincan, and is now CEO and Co-Founder of Roost. 
Roost's founding team also includes: Head of Partner & Sales Scott Herber, who has deep global experience in direct and indirect sales and held leadership roles at Kronos, Oracle, and IBM; Chief Marketing Officer Valarie Hamm Carlson, who brings a strong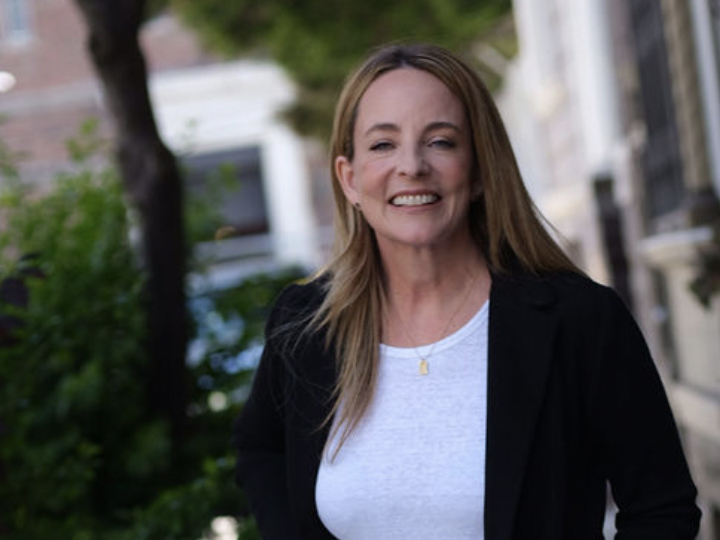 background in the financial world (from Even, Simple Finance and Umpqua Bank); and Credit Officer Ozer Elbeyli, who led efforts at LendUp, Commonwealth Bank, OneMain and BarclaycardUS.
The team has the right mix of PropTech & FinTech experience, particularly with compliance issues. 
As a new and needed way for renters to access liquidity, and a marked improvement on traditional payday loans, Roost is poised to disrupt the entire category. I'm so excited about this company and its future because I believe it can become a stand-alone public company and generate 100X+ returns. The product also has global potential—I can't imagine a renter who wouldn't be positively impacted by Roost.